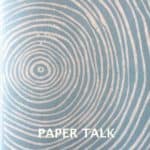 You can listen to this episode by clicking on the white arrow above, or subscribe to the Paper Talk podcast on Apple Podcasts (or find more listening options on Anchor.fm) so you never miss an episode. If you enjoy the show, tell a friend about it! Thank you so much.
Paula Beardell Krieg is an artist and educator who uses paper for drawings, decoration, and building. She loves to explore the internal structure of books, including the patterns of folds, the sewing and knotting of bindings, and how everything fits together. Krieg's work lies at the intersection of art and math, using color and line to illuminate symmetries and geometry in and on paper. She often collaborates with classroom teachers to design projects for arts-in-education classes and writes about her work in classrooms, as well as her own adventures with paper.
++++++
Just prior to our interview, Paula Krieg reminded me about how we met. Susan Joy Share (episode #65 ) brought me to the Center for Book Arts in NYC, where Paula had been teaching that day, and we went out for dinner. I was writing my book Paper Illuminated around that time, and she contributed some really unique surface design techniques: chalk marbling, bubble marbling, and crayon batiking.
Krieg's blog, Playful Bookbinding and Paper Works, is something to follow! She shares tutorials and writes about her delightful discoveries about working with paper, along with her interest in mathematics.
Paula Beardell Krieg's Recommendations:
Papers:
Tools:
Any light box
Scoring board
Metal rulers and squares from the hardware store
An old fashioned recipe box filled with index cards to put how-to tips in, like things you might forget how to do. Paula puts technology instructions in there that she uses occasionally.
Check out the twitter handle #mathsartmonday.
Visit Paula Krieg's blog to learn more about her work and find her on Etsy. Krieg is also very active on Twitter, where she connects with the math and math/art communities.
++++++
Music featuring excerpts of Makin' Paper folk song by Peter Thomas. Listen to the full song and find out about other paper and book arts folk songs.
Gary A. Hanson did the sound editing for this episode. He practices and refines his skills in audio production while making his own podcast I'll Have a Beer and Talk, a show about tech news, culture, weird animal stories and of course, beer. Gary is also the Deckle in Pulp & Deckle, a Portland-based community hand papermaking studio.
++++++