The 2024 Retreat theme is Paper + Thread
Come explore:
curved stitching
embroidery on paper
embedding strings, threads and knitted/knotted/crocheted objects between handmade sheets
structural string forms
drawing with thread
making paper string
We will work with abaca, flax and flabaca fibers to create works on paper, books, wall hangings, sculpture, lighting and more.
Create unique paper objects with a dozen like-minded creatives.
Creating With Paper in the Colorado Rockies
This will be a 5-day retreat.
August 26 – 30, 2024 (Monday – Friday).
You are invited to my studio in the heart of the Rocky Mountains to explore the potential of paper in two and three dimensions. Enjoy peaceful creative days in the tiny hamlet of Red Cliff, surrounded by mountains, the river, and aspen trees as they begin to change their glorious fall colors. Experiment with several techniques as you create a variety of paper objects that will intrigue your eyes and illuminate your spirit. All levels of art experience are invited.
Over the years, this retreat has attracted people from all walks of life: from hobby paper crafters to professional artists; some are still working and others have retired; those who have experience with paper and others who do not; young, old, male female, librarians, teachers, kite flyers, translators, non- profit leaders, designers, therapists, and engineers. Everyone is welcome!
If you have questions, feel free to e-mail Helen: helen@helenhiebertstudio.com.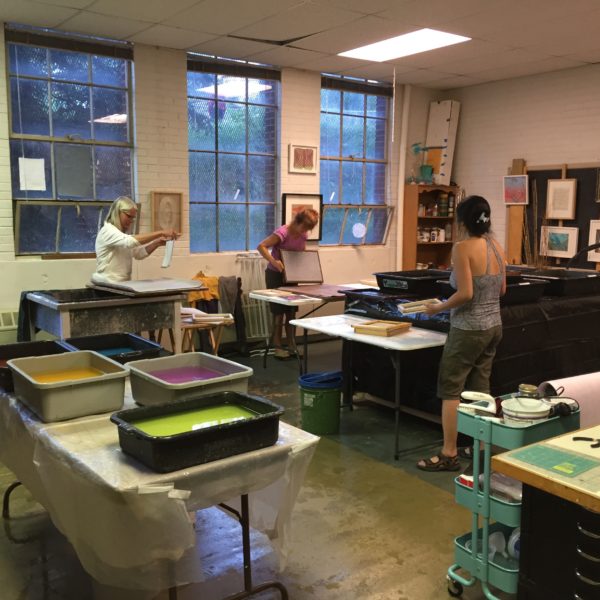 Description:
Our group will spend the mornings working together on dry step-by-step projects, such as wall pieces, books, sculptural armatures, illuminated objects, stitched paper objects and more.
The afternoons will be more freeform: Helen will demonstrate hand papermaking techniques, and you can choose whether to spend the rest of the day making paper or continuing to explore the morning's techniques.
The pace will allow for structured teaching and individual meandering. You will head home with models, finished objects, and inspiration to continue with your creative work!
Helen also has an extensive library featuring paper forms and projects that will be available for inspiration.
Daily schedule
9:00 am     Meet in the gym at Red Cliff Studios, 400 Pine St in Red Cliff, CO
12-1pm       Lunch break (catered)
4pm            Wind down for the day
Evenings     Dinner on your own, relax, or explore the Vail Valley!
After Hours: The studio will be open from 7-9pm-ish some evenings for night owls!
Note: We will end after lunch on Friday.
Additional details:
Supply lists and other helpful tips will be sent several weeks before the retreat.
For those of you coming from lower altitudes (Red Cliff is at 8650 ft), please read up on adjusting to high altitude. I don't want to scare you, but I want you to feel your best!
Be sure to let Helen know if you would like to schedule time for individual art mentoring time during our retreat.
Feel welcome to bring any ongoing work you'd like to share and discuss with Helen or the group
Please feel free to contact Helen before the retreat with any questions you may have about our plans, supplies, techniques we'll be covering or any special requests.
Retreat tuition:
Price: $925 for 5-days
Please note: there will a materials fee in the amount of approx. $100 (TBD) due at the retreat.
INCLUDED IN YOUR TUITION:
• Guided art instruction
• Our group will be limited to twelve plus Helen and an assistant
• Informative supply lists and instructional handouts
• Extra shared art materials and tools
• Lunch each day
• Snacks & treats!
• Optional individual art mentoring session with Helen
NOT INCLUDED IN YOUR TUITION:
Lodging expenses are not included (see listings below and let me know if you would like a roommate).

Travel arrangements are your responsibility (I am happy to connect you with others in the group).

Breakfast and dinner are on your own.

You may wish to ship some of your work home after the workshop.
About Helen
Helen Hiebert constructs installations, sculptures, films, artists' books and works in paper using handmade paper as her primary medium. She teaches, lectures and exhibits her work internationally and online, and is the author of the several how-to books about papermaking and papercrafts. She has an extensive network of paper colleagues around the world and her interest in how things are made (from paper) keeps her up-to-date on current paper trends, which she writes about in her weekly blog called The Sunday Paper. She also hosts the podcast Paper Talk, and holds this annual paper retreat and papermaking master classes in her Red Cliff, Colorado studio.
Testimonials
Helen's Red Cliff Paper Retreat was a perfect mix of papermaking, paper vessels and mountain air. Her teaching style added just the right mix for a weekend filled with artistic fulfillment. I left feeling refreshed, and my mind was overflowing with my own interpretation of the many projects introduced. – Elizabeth Hansen, CO
This was my first time at the Red Cliff Retreat. I could not have asked for a more rewarding and educational experience. Helen and her assistant went above and beyond to make sure that everyone was able to meet their learning goals while having a fun time! – Lou Plummer, New Bern, NC
I just wanted to say THANK YOU for another amazing, creative, thoroughly satisfying and enjoyable retreat. Thank you for being such a patient teacher and sharing your boundless knowledge, talent and love of craft with all of us. Thank you for holding the space and creating an environment where everyone is free to share, and everyone supports everyone else. Thank you for being the beacon that attracts such a lovely group of people each year. I loved this retreat even more than the last one, and I loved the last one!  – L.L., Santa Fe, NM
Where to stay:
Red Cliff is the oldest town in Eagle County. At 8,650 feet above sea level (please note the altitude; you will need to drink extra water to acclimate), Red Cliff boomed at the turn of the century as a mining town with saloons, a bank, sawmills and even an opera house. Today it is a quaint mountain community (population 265) that attracts tourists who stop in as they drive their way down the Colorado Scenic Byway, Highway 24. Red Cliff is 20 miles North of Leadville, the highest incorporated city in the U.S. and just 12 miles from the center of Vail, a world famous ski resort. The town of Red Cliff is also accessible via Vail Pass off of I-70. Please note that there is limited cell service in Red Cliff (yay!) but there is Wifi at the Inn.
Snow Cross Inn: Four attendees rented this house last year and enjoyed staying there. They also met at the Denver airport and shared a rental car. Snow Cross Inn is on Airbnb. I can help connect you to other participants if you're interested.
Green Bridge Inn: https://www.greenbridgeinn.com/. The Green Bridge Inn is the only hotel in Red Cliff and offers classy lodging to complement your perfect mountain-escape vacation. All 14 rooms at the Green Bridge are paneled with beadboard walls and laid with hardwood floors for a home-away-from-home feel. Each room is equipped with a coffee maker and mini fridge. Experience extreme comfort and have a great night's sleep on one of our king-sized or extra-long full-sized beds.
The Minturn Inn: https://www.minturninn.com/. The Minturn Inn is a charming B&B on Main Street. It is ideally located between Vail and Beaver Creek, just five miles to either resort and nine miles north of Red Cliff. The 9 rooms feature modern amenities, antique furnishings and fine linens creating a relaxing and cozy retreat when visiting the Vail Valley and exploring the Rockies.
Hotel Minturn: https://www.hotelminturn.com/; Hotel Minturn is a boutique hotel located in Minturn, which lies between Vail and Red Cliff , just nine miles north of Red Cliff. The downtown location of Hotel Minturn is a short walk to the to a variety of restaurants and shops. The rooms of Hotel Minturn are furnished in a clean, contemporary style with high-end finishes, fine linens and modern amenities.
The Bunkhouse in Minturn: http://vailbunkhouse.com/. Enjoy a quiet, relaxing night's rest in one of 30 custom-built bunk beds at The Bunkhouse boutique hostel. Comfortable mattresses, cozy linens and private spaces allow you to rest in peace. Each bunk features: clean linens, curtains for privacy, and ambient noise machines.
Camping: There are a couple of primitive campgrounds located within 20 miles of Red Cliff which offer an inexpensive alternative to sleeping under a roof.
In addition, there are numerous hotel and B&B options in the towns of Minturn (9 miles), Avon (15 miles) and Vail (15 miles).
Getting to Red Cliff
Denver International Airport (DIA) is 2-1/2 hours by car and Eagle County Airport is a 45-minute drive. Rental cars are available at both, and Epic Mountain Express offers frequent shuttle service from DIA.
Having a car can be helpful: the walk up to the studio from the Green Bridge Inn is about 1/4 mile uphill and there is only one restaurant in town. We can carpool if you prefer not to rent a car.