Click here to express interest in the 2024 master classes.
This 5-day master class will be an intimate gathering of four participants and will focus on the various facets of hand papermaking. We will cover many of the topics featured in my book The Papermaker's Companion: The Ultimate Guide to Making and Using Handmade Paper.
During this 5-day papermaking intensive, you will participate in every stage of the papermaking process as we discuss variations on professional and DIY studio set up, preparing pulp, mixing additives, sheet forming, pressing and drying. We will also cover a selection of creative techniques, which you will have time to explore.
This master class is for those who are already immersed in hand papermaking and have a serious desire to explore the craft.
2024 Dates:
Session 1: May 20-24, 2024
Session 2: July 22-26, 2024
Special Guest! We will spend one day at Susan Mackin Dolan's studio in Edwards, CO (20 miles from Red Cliff). Susan employs hand papermaking techniques that require basic equipment and is able to create professional papers without a beater, press or drying system. Participants will process traditional Japanese plant fibers, make papers using a hybrid east/west sheet forming technique, create colored layered imagery with stencils, and learn about using and making stretched screens for couching and drying.
Overview of the Week:
Day 1: Pulp, equipment, studio set-up, and western sheet forming. Techniques: inclusions, laminating, embedding.
Day 2: Pigments, additives and eastern sheet forming. Techniques: pulp painting, pulp stenciling, watermarks.
Day 3: Work Day: refine your skills and practice techniques. Techniques: embossing, shaped sheets, sculptural applications.
Day 4: Workshop at Susan Mackin Dolan's studio (see description above)
Day 5: Final work day, Q&A, finish projects.
If you have questions, feel free to e-mail Helen: helen@helenhiebertstudio.com.
About Helen
Helen Hiebert worked at Dieu Donné Papermill in NYC for 6 years, where she learned to make paper and was exposed to a variety of artists and techniques. She constructs installations, sculptures, films, artist books and works in paper using handmade paper as her primary medium. She teaches, lectures and exhibits her work internationally and has taught at the Penland School, Haystack Mountain School, Women's Studio Workshop, the Papierwespe in Vienna, Austria and the Oregon College of Art and Craft. Helen is the author of the books The Papermaker's Companion, Papermaking with Plants, Playing With Pop-Ups, Playing With Paper, Paper Illuminated and The Art of Papercraft. Helen serves as an advisor for Hand Papermaking Magazine, is a member of the national and international hand papermaking organizations, writes a weekly blog, The Sunday Paper and hosts the podcast Paper Talk.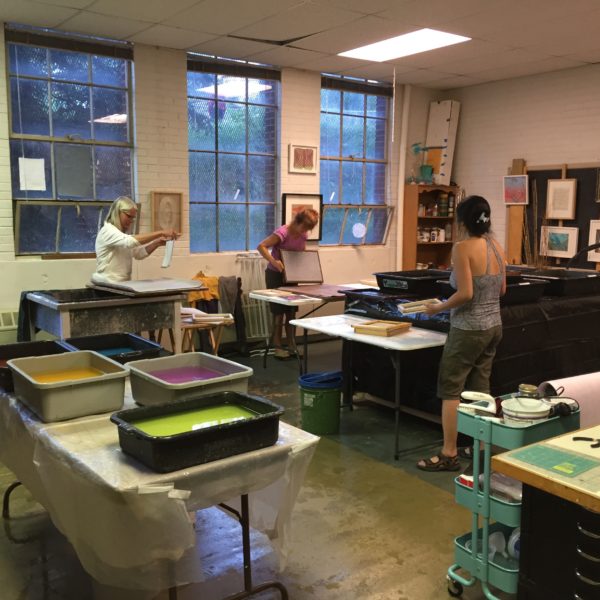 Description:
Each morning will include demonstrations and time for experimentation and refinement of processes. We will spend the afternoons making paper & exploring creative papermaking techniques. Immerse yourself in handmade paper as you:
* Exchange ideas with other papermakers.
* Focus on process and experimentation.
* Get your hands wet!
* Engage and converse with a like-minded community .
* Immerse yourself in a creative and nurturing environment.
Daily schedule
9:00 am     Meet at Helen's studio at 400 Pine St in Red Cliff, CO
12-1pm       Lunch break (catered)
4pm            Wind down for the day
Evenings     Dinner on your own, relax, or explore the Vail Valley! We'll go out for dinner some too.
Additional details:
Supply lists, weather information and other helpful tips will be sent upon receipt of your registration and deposit.
For those of you coming from lower altitudes (Red Cliff is at 8650 ft), please read up on adjusting to high altitude. I don't want to scare you, but I want you to feel your best!
Feel welcome to bring any ongoing work you'd like to share and discuss with Helen or the group
Please feel free to contact Helen before the Master Class with any questions you may have about our plans, supplies, techniques we'll be covering or any special requests.
Master Class Tuition: $1200 for 5-days
INCLUDED IN YOUR TUITION:
Papermaking and art instruction
Materials and equipment (the studio contains many moulds and deckles, and there is no need to bring your own unless you have a favorite size you want to work with)
Our group will be limited to four plus Helen and maybe an assistant
Informative supply lists and instructional handouts
Lunch, snacks & treats!
Optional individual art mentoring session with Helen (please inquire)
NOT INCLUDED IN YOUR TUITION:
Lodging expenses are not included (see listings below and let me know if you would like a roommate).
Travel arrangements are your responsibility (I am happy to connect you with others in the group if you are flying into Denver and wish to drive up to Red Cliff together).
Breakfast and dinner are on your own.
You may wish to ship some of your work home after the master class.
Where to stay:
Red Cliff is the oldest town in Eagle County. At 8,650 feet above sea level (please note the altitude; you will need to drink extra water to acclimate), Red Cliff boomed at the turn of the century as a mining town with saloons, a bank, sawmills and even an opera house. Today it is a quaint mountain community (population 265) that attracts tourists who stop in as they drive their way down the Colorado Scenic Byway, Highway 24. Red Cliff is 20 miles North of Leadville, the highest incorporated city in the U.S. and just 12 miles from the center of Vail, a world famous ski resort. The town of Red Cliff is also accessible via Vail Pass off of I-70. Please note that there is limited cell service in Red Cliff (yay!).
Green Bridge Inn: http://greenbridgeinn.com; 1-970-827-5228. The Green Bridge Inn offers classy lodging to complement your perfect mountain-escape vacation. All 14 rooms at the Green Bridge are paneled with beadboard walls and laid with hardwood floors for a home-away-from-home feel. Experience extreme comfort and have a great night's sleep on our on our king-sized or extra-long full-sized beds.
The Minturn Inn: https://www.minturninn.com/. The Minturn Inn is a charming B&B on Main Street. It is ideally located between Vail and Beaver Creek, just five miles to either resort and nine miles north of Red Cliff. The 9 rooms feature modern amenities, antique furnishings and fine linens creating a relaxing and cozy retreat when visiting the Vail Valley and exploring the Rockies.
Hotel Minturn: https://hotelminturn.com/. Hotel Minturn is a boutique hotel located in Minturn, which lies between Vail and Red Cliff , just nine miles north of Red Cliff. The downtown location of Hotel Minturn is a short walk to the to a variety of restaurants and shops. The rooms of Hotel Minturn are furnished in a clean, contemporary style with high-end finishes, fine linens and modern amenities.
The Bunkhouse in Minturn: http://vailbunkhouse.com/. Enjoy a quiet, relaxing night's rest in one of 30 custom-built bunk beds at The Bunkhouse boutique hostel. Comfortable mattresses, cozy linens and private spaces allow you to rest in peace. Each bunk features: clean linens, curtains for privacy, and ambient noise machines.
Camping: There are a couple of primitive campgrounds located within 20 miles of Red Cliff which offer an inexpensive alternative to sleeping under a roof. Please note that it can still be chilly in the Rockies in May, so check the weather.
In addition, there are numerous hotel and B&B options in the towns of Minturn (9 miles), Avon (15 miles) and Vail (15 miles).
Getting to Red Cliff
Denver International Airport (DIA) is 2-1/2 hours by car and Eagle County Airport is a 45-minute drive. Rental cars are available at both, and both Epic Mountain Express and Peak Mountain Express offer frequent shuttle service from DIA to the Vail Transportation Center and hotels in Minturn.
Having a car can be helpful: the walk up to the studio from the Green Bridge Inn is about 1/4 mile uphill and there is only one restaurant in town. If you stay in Minturn, it is a 9 mile drive back and forth. We can carpool if you prefer not to rent a car.
Payment/Cancellation Policy
A 50% deposit is due now to reserve your spot and the remaining tuition is due by March 20, 2024 (for the May class) or May 22, 2024 (for the July class). You will receive a full refund minus a $100 processing fee for cancellations. No refunds after March 20/May 22, 2024, unless your space can be filled. If I decide to cancel the Master Class, you will receive a full refund.