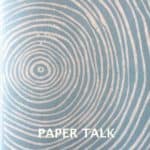 You can listen to this episode by clicking on the white arrow above, or subscribe to the Paper Talk podcast on Apple Podcasts (or find more listening options on Anchor.fm) so you never miss an episode. If you enjoy the show, tell a friend about it! Thank you so much.
Susan Joy Share is an Alaska based visual artist, bookbinder and performer. Her passion for the book form, its structural variations, materials and potential for movement blends with her interest in sculpture, painting, sewing and collage. Susan creates an array of wearable books, figures and architectural forms. Her innovative, early performances with foldout sculpture connected the book with the human body.
++++++
I wasn't familiar with the Comprehensive Employment and Training Act, an extension of the Works Progress Administration program from the 1930s, which Share participated in during the late 70's.
We talked about her performance work, Unfoldings, created in 1985.
Music featuring excerpts of Makin' Paper folk song by Peter Thomas. Listen to the full song and find out about other paper and book arts folk songs.
Gary A. Hanson did the sound editing for this episode. He practices and refines his skills in audio production while making his own podcast I'll Have a Beer and Talk, a show about tech news, culture, weird animal stories and of course, beer. Gary is also the Deckle in Pulp & Deckle, a Portland-based community hand papermaking studio.
++++++