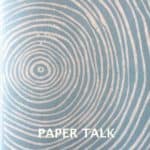 You can listen to this episode by clicking on the white arrow above, or subscribe to the Paper Talk podcast on Apple Podcasts (or find more listening options on Anchor.fm) so you never miss an episode. If you enjoy the show, tell a friend about it! Thank you so much.
Owen Gildersleeve is an artist specializing in handcrafted illustration, set design & art direction. His unique style honed over the past 12 years brings graphic designs to life through layers of hand-cut paper and a playful use of depth & shadow. His practice ranges from intricate illustrations, to large-scale sets and installations, teaming up with the likes of Apple, LUSH, Penguin Books & NASA.
We discussed Gildersleeve's background and how he started getting commercial work featuring his paper designs. He's done so many fascinating projects featuring paper in a variety of ways. Here are a few we discussed:
Nissan Juke: Folded in Britain: To mark the 5th birthday of the Nissan Juke, Gildersleeve was approached to create a life-size origami inspired paper car, tying in with the company's Japanese routes. The paper model, an exact replica of the Juke, took over 200 hours to build and the paper shell was formed of around 2,000 separate folded polygons. The car was built in collaboration with model maker Thomas Forsyth, and the team used digital CAD drawings to devise a rigid internal framework on which we they built the paper shell.
Self Preserving: These intricate displays were featured across a series of fifteen window displays throughout Europe for Lush. To create a special hero installation for its flagship London store on Oxford Street, Gildersleeve brought in 3D designer Thomas Forsyth to add a layer of movement to the display, creating a set of bespoke moving head mechanisms that he 3D printed using a biodegradable polymer and fitted with servo motors. These were then attached to the handcrafted stems and bases, and decorated with paper heads and foliage inspired by Charlotte Day's illustrations. Click through to watch the flowers in motion.
Gildersleeve has designed quite a few book covers, including the cover for my book, The Art of Papercraft. The covers for the Earth Friends series are wonderfully animated.
One of his most recent projects was a collaborate with the brand, The Balvenie, to bring their fabulous bottles of single malt whisky to life, through a series of handcrafted paper sets. For each set Gildersleeve was tasked with trying to convey the flavour profiles of each whisky in his layered style, as well as capturing the base honey flavor that runs through the whole series.
Owen Gildersleeve's recommendations:
Paperists:

Infinite Possibilities in Paper Art,

 contains interviews with extraordinary paper artists from around the world and showcases their most brilliant works.
Human Worth, Gildersleeve's charitable record label
++++++
Visit Owen Gildersleeve's website to learn more about him, and you can follow him on Instagram.
++++++
Music featuring excerpts of Makin' Paper folk song by Peter Thomas. Listen to the full song and find out about other paper and book arts folk songs.
Gary A. Hanson did the sound editing for this episode. He practices and refines his skills in audio production while making his own podcast I'll Have a Beer and Talk, a show about tech news, culture, weird animal stories and of course, beer. Gary is also the Deckle in Pulp & Deckle, a Portland-based community hand papermaking studio.
++++++