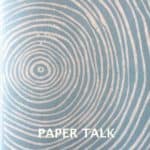 You can listen to this episode by clicking on the white arrow above, or subscribe to the Paper Talk podcast on Apple Podcasts (or find more listening options on Spotify) so you never miss an episode. If you enjoy the show, tell a friend about it! Thank you so much.
Jennie Frederick earned her BFA from the Kansas City Art Institute in fibers, followed by an MFA from Indiana State University. She apprenticed with Douglass Morse Howell, Bob Serpa, from Imago, and received her MFA for apprenticing at Twinrocker Handmade Paper. Frederick founded Kansas City Paperworks, Inc. in 1983 and has taught at the Kansas City Art Institute and MCC-Maple Woods, where she developed a Fiber & Papermaking Program. She is currently a full-time artist living in Santa Fe, New Mexico.
Frederick comes from a creative family and her early influences included her Uncle, the cartoonist SJ Ray and her grandparents worked for Nelly Don, a garment company in Kansas City, MO.
We talk about some of her early influences, including Joan Livingstone, Douglass Morse Howell, and Bob Serpa at Imago. Frederick met Kathryn & Howard Clark in the late 1970's and became an apprentice at Twinrocker Handmade Paper, where she worked with many prominent visiting artists.
Frederick's travels to Mexico influenced her teaching, and her current work utilizes techniques/processes that she developed following documentation in the Mexican villages of San Pablito, in Puebla State, and Lacanha and Naha in Chiapas.
| | |
| --- | --- |
| | |
We discussed Frederick's artwork, including her installation, Shedding.
++++++
Jennie Frederick's recommendations:
++++++
Visit Jennie Frederick's website to learn more about her. You can also follow her on Instagram.
++++++
Music featuring excerpts of Makin' Paper folk song by Peter Thomas. Listen to the full song and find out about other paper and book arts folk songs.
Gary A. Hanson did the sound editing for this episode. He practices and refines his skills in audio production while making his own podcast I'll Have a Beer and Talk, a show about tech news, culture, weird animal stories and of course, beer. Gary is also the Deckle in Pulp & Deckle, a Portland-based community hand papermaking studio.
++++++