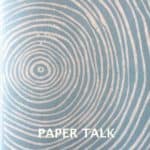 You can listen to this episode by clicking on the white arrow above, (or find more listening options on Anchor.fm) so you never miss an episode. If you enjoy the show, tell a friend about it! Thank you so much.
Twinrocker Handmade Paper
was established by Kathryn and Howard Clark in 1971 and was pivotal to the renaissance of hand papermaking in America. The couple met in graduate school at Wayne State University in Detroit, she working toward a master degrees in Fine Art Printmaking and he toward a degree in Industrial Design. Upon graduation, they moved to San Francisco where Kathryn was a fine art lithography printer in a Tamarind offshoot shop named Collectors Press. It was during those years, 1970-1972, when they realized there was no handmade paper being made in America and that people had to import fine papers from Europe. They decided to change that.
The Mark of the Maker
is a wonderful film about Twinrocker Handmade Paper.
This is the Twinrocker logo I asked them about:
Here's a peek inside of the beater room in the mill in Brookston, Indiana
This wall of paper shows some of the stationery produced at the mill, but Twinrocker is famous for the artist and watercolor papers they create for artists from around the world, including those Universal Limited Art Editions, Gemini G.E.L., Tyler Graphics, Landfall Press, Cirrus Editions, Louise Bourgeois, Two Palms Press, and Pressure Printing.
Here are a few artist proof sheets from Traces Suspectes en Surface, the work that Kathryn talks about in the bonus clip. All of the paper was created by Twinrocker, and the work was published by Tanya Grossman of Universal Limited Art Editions (ULAE), featuring poetry by Alain Robbe-Grillet and artwork by Robert Rauschenberg.
And here's Howie singing A Papermaker's Song:
Travis Becker, who was trained at Twinrocker by Kathryn Clark and has been a master papermaker and colleague for many years has become a partner and will carry Twinrocker into the future. You can learn more about Twinrocker on their website.
Music featuring excerpts of Makin' Paper folk song by Peter Thomas. Listen to the full song and find out about other paper and book arts folk songs.
Gary A. Hanson did the sound editing for this episode.  He practices and refines his skills in audio production while making his own podcast I'll Have a Beer and Talk, a show about tech news, culture, weird animal stories and of course, beer. Gary is also the Deckle in Pulp & Deckle, a Portland-based community hand papermaking studio.
++++++