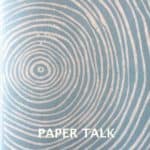 You can listen to this episode by clicking on the white arrow above, or subscribe to the Paper Talk podcast on Apple Podcasts (or find more listening options on Anchor.fm) so you never miss an episode. If you enjoy the show, tell a friend about it! Thank you so much.
Deborah Balmuth is the publisher and editorial director at Storey Publishing, the publisher of my books, where she heads up efforts to acquire and publish outstanding, long-lasting nonfiction books that support Storey Publishing's mission of promoting personal independence in harmony with the environment. She works with a group of passionate editors who seek out promotable authors with deep, hands-on knowledge and wisdom on topics ranging from gardening and farming to crafts, cooking, building, outdoor living, natural well-being, and creativity for both adults and children. Since joining Storey in 1993, Deborah has conceived and edited many best-selling titles that reflect her personal interests in herbal medicine, crafts, and nature journaling.
We chat about how Balmuth reached out to me after reading about a class that I was teaching at the Horticultural Society of NY in the mid-1990's. Her letter to me (written on paper) led to the publication of my first book, Papermaking with Garden Plants & Common Weeds. That book was originally published in paperback, and was one of Storey's first 4-color books, which they later brought out in paperback.
Before that first book even came out, Storey was working on a series of books: The Candlemaker's Companion and The Soapmaker's Companion, and Balmuth had the idea to add The Papermaker's Companion to that series. Later, Storey helped me produce The Papermaker's Studio Guide DVD, which is a video companion to the book.
We talk about how my third book, Paper Illuminated, came about.
Then we got into the nuts and bolts about how a book comes to life through the lens of my books, including my newest book, The Art of Paper Craft, also published by Storey. The cover design, by Owen Gildersleeve, came about once the book was in the design phase, and I just love it! Listen for my interview on the podcast with Gildersleeve soon.
I found it fascinating to hear how Storey fits into the larger publishing scene and to learn more about the inner workings of a book publisher. At the end of the interview, I asked Balmuth a few questions that I'd solicited from some of my followers. Listen to her answers to the following questions:
How does one get their work(s) included in such a book, either a How-To, or just a collection of works? Once in a while I see a "call for entries", but what other ways are there to get noticed? 

 I'd be interested to learn how Storey markets your books and to whom; is it mostly to a craft audience or more general? 

I used to be director of marketing for a small book publisher, and I'd often get asked why authors should publish with a book publisher instead of self publish (once they found out how small advances are unless you're a best-selling author) and what publishers will do to market books and what authors will be expected to do themselves.
++++++
Deborah Balmuth's recommendations:
Visit Storey.com to learn more about the books that Storey publishes and to discover useful resources and tutorials.
++++++
Music featuring excerpts of Makin' Paper folk song by Peter Thomas. Listen to the full song and find out about other paper and book arts folk songs.
Gary A. Hanson did the sound editing for this episode. He practices and refines his skills in audio production while making his own podcast I'll Have a Beer and Talk, a show about tech news, culture, weird animal stories and of course, beer. Gary is also the Deckle in Pulp & Deckle, a Portland-based community hand papermaking studio.
++++++