Let's Make Artist's Books!
The Sunday Paper #377
August 22, 2021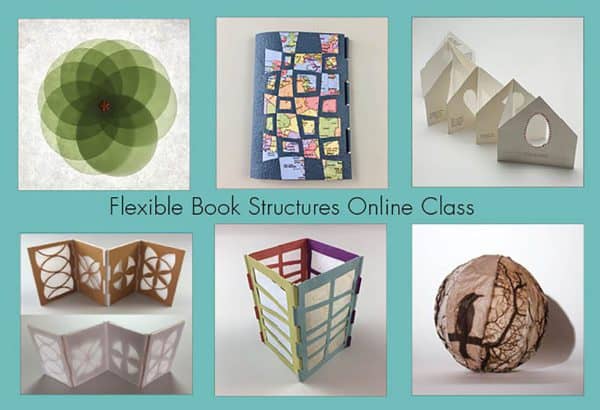 Registration is now open for my Flexible Book Structures online class, a 6-week class that begins on September 20th. The kids are going back-to-school, so why don't we join them! Come create six artist's book structures that break away from the traditional book but still have pages, text, imagery and clever bindings. We will transform paper panels into books, wall hangings, folding screens, lanterns & more as we create a series of flexible book structures that fold and unfold, collapse and expand, and feature innovative attachments and connections.
I've created a kit that you can purchase that includes most of the materials you will need to complete the projects.
Read to the end of this post to find out about the free mini-workshop I'm hosting on Zoom in conjunction with this class.
———————————————————————————————–––––––
Eiko Ojala creates amazing paper illustrations for publications that portray issues we are all facing, including climate change, the pandemic, politics, and social unrest. Click through to see more – he has a fantastic way of working with positive and negative space.
———————————————————————————————–––––––
23 Sandy Gallery has curated an international juried exhibition of book arts that is now on view at Form & Concept in Santa Fe. "When imperceptible phenomena burst into view, revolutionary change may follow. We learned this in 2020, as an invisible but deadly virus spread across the world, an urgent racial justice movement illuminated dark societal realities, and humanity's long-simmering crimes against the environment unleashed fires and floods. Unseen forces can shape our lives and surface in unexpected ways, often altering our behaviors and worldviews if and when we are made aware of them. This exhibition explores the idea of the "unseen"—physically, psychologically, and philosophically."
———————————————————————————————–––––––
I've been noticing an increase in the popularity of hand papermaking, how about you? I just published a new youtube video that covers double couching and embedding. Enjoy! If you're into hand papermaking, check out my how-to books and DVD's in the next section of this post.
———————————————————————————————–––––––
Paper meditation: a Japanese diplomat, Hisao Inagaki, has been folding a paper crane every day during the pandemic. He began his Zen-like meditation, in which every identically framed video that he posts on Instagram shows him delivering the same message, with only the numbers — and his shirts — changing.
———————————————————————————————–––––––
Paper Tidbits:
———————————————————————————————–––––––
In the Studio:
I'm hosting a FREE Zoom workshop on Wednesday, September 1st at noon my time. I'll show you how to make this rocking book structure and will also be talking about the Flexible Book Structures online class that begins on September 20th. You'll receive a list of supplies when you register.
———————————————————————————————––––––
Featured this week in my Studio shop:

Now registering: Flexible Book Structures Online Class, Papermaking with Garden Plants & Common Weeds, The Papermaker's Companion, The Papermaker's Studio Guide DVD
———————————————————————————————––––––