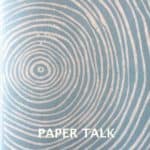 You can listen to this episode by clicking on the white arrow above, or subscribe to the Paper Talk podcast on Apple Podcasts (or find more listening options on Anchor.fm) so you never miss an episode. If you enjoy the show, tell a friend about it! Thank you so much.
Paul Jackson is a professional paper artist, paper engineer, writer and teacher since 1983, who specializes in origami and the folded arts.  Jackson has written more than 40 books, the first of which were origami books for adults and children, and his more recent books have been about the application of folding techniques into design, a subject he has taught in more than 80 Universities and Colleges in 13 countries, to design students of many disciplines, including Fashion, Architecture, Ceramics, Jewelery, Product Design and Textiles. Jackson was born in England and moved to Israel when he married the Israeli origami artist and educator, Miri Golan, founder of the Israeli Origami Center (1993). Miri and Paul founded the Folding Together project and the Origametria program, which involves using origami to teach geometry.  In 2018, Origametria was accepted by the Israeli Ministry of Education into the National Mathematics Curriculum and is studied weekly by 30,000+ children of Primary School age. 
++++++
Early in his career, Jackson got interested in how a single crease can transform a sheet of paper.
His book, Folding Techniques for Designers: From Sheet to Form, is a best seller and has been translated into many languages, along with his other design books, which have all been influential in establishing folding as a language of design.
We talk about his approach to teaching and how he has inspired students in all kinds of design disciplines around the world through his teaching and his books.
During our conversation, Jackson mentioned a then secret commercial collaboration which I can now share with you. He designed these cut-and-fold acoustic tiles for FACT, which manufactured his Origami Collection in felt. They were designed to look good in a grid, rather than to look good as individual units. The needed to be stable, simple to manufacture within certain strict technical parameters and simple to install. The series of 10 or so designs currently available needed to be diverse in shape, offering a choice to the customer. Put these criteria together and the design task became somewhat complex, even though the results hopefully look simple. Sometimes, the simplest looking objects take the longest to conceive and perfect.
Jackson shared a touching story at the end of our interview about his collaboration with his wife Miri Golan (whom he met through origami) about their collaborative project, called Folding Together. This project brings together Israeli and Palestinian children from the Jerusalem area, to make origami. In their everyday lives, the children of the two sides never meet, perpetuating the cycle of ignorance, mistrust and fear of the other side. By bringing the children together in an atmosphere of fun and co-operative creativity, they break this cycle and help to move the peoples of their region towards a more positive, mutually respectful future.
And there's more! Listen to the podcast.
++++++
Paul Jackson's recommendations:
Visit Paul Jackson's website and Facebook page to learn more about his work.
++++++
Music featuring excerpts of Makin' Paper folk song by Peter Thomas. Listen to the full song and find out about other paper and book arts folk songs.
Gary A. Hanson did the sound editing for this episode. He practices and refines his skills in audio production while making his own podcast I'll Have a Beer and Talk, a show about tech news, culture, weird animal stories and of course, beer. Gary is also the Deckle in Pulp & Deckle, a Portland-based community hand papermaking studio.
++++++