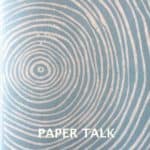 You can listen to this episode by clicking on the white arrow above, (or find more listening options on Anchor.fm) so you never miss an episode. If you enjoy the show, tell a friend about it! Thank you so much.
Thomas Leech, director of the Press at the Palace of the Governors, has more than 40 years' experience in printing, paper-making, and related book-arts. A curator at the New Mexico History Museum since 2001, Leech has organized a number of successful exhibits, including Album Amicorum: Gems of Friendship in a Frightened World; The Saint John's Bible; Jack Kerouac and the Writers Life; Gustave Baumann and Friends: Artist Cards from Holidays Past; and Shakespeare from Stage to Page.
Books and broadsides that Leech has printed include Doctor Franklin & Spain, Jack Thorp's Songs of the Cowboys; O'Keeffe Stories; Word Art Poetry Portfolio; and he has published all of Santa Fe's Poets Laureate in fine limited editions. He also authored a number of articles for El Palacio and Hand Papermaking magazines, and has been included in many Hand papermaking Portfolios
Under Leech's leadership, the Palace Press received the 2014 Carl Hertzog Award for Excellence in Book Design, the 2015 Edgar Lee Hewett Award from the New Mexico Association of Museums, the 2013 City of Santa Fe Mayor's Award for Excellence in the Arts.
Tom was a member of the 1990 and '92 Everest Environmental Expeditions, and in 1994 co-founded the Paper Road/Tibet Project, teaching traditional papermaking to disabled and orphaned children in Lhasa and rural areas of Tibet. Since 2010, Tom has facilitated Alzheimer's Poetry Project events at the New Mexico History Museum.
Music featuring excerpts of Makin' Paper folk song by Peter Thomas. Listen to the full song and find out about other paper and book arts folk songs.
Gary A. Hanson did the sound editing for this episode. You can find him making audio magic with his podcast series, I'll Have a Beer and Talk, a show about tech news, culture, weird animal stories and of course, beer.