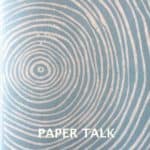 You can listen to this episode by clicking on the white arrow above, (or find more listening options on Anchor.fm) so you never miss an episode. If you enjoy the show, tell a friend about it! Thank you so much.
Tim's facility is rather large, so we broke the video into two sections. The first one is an overview of the facility.
The second video is about drying Japanese papers. Here's a link to the Chancery Papermaking video that Tim refers to.
Timothy Barrett is a professor in the University of Iowa Center for the Book and the School of Library and Information Science. He was director of the Center between 1996 and 2002 and became director again in the fall of 2012. His recent research can be found here and by searching "Chancery Papermaking" on YouTube. Barrett's studies have been funded by the NEA, the Kress Foundation, the Institute for Museum and Library Services and a MacArthur Fellowship. Conservators, fine press printers and book artists use papers produced by Barrett and his student co-workers.