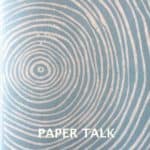 You can listen to this episode by clicking on the white arrow above, or subscribe to the Paper Talk podcast on Apple Podcasts (or find more listening options on Anchor.fm) so you never miss an episode. If you enjoy the show, tell a friend about it! Thank you so much.
Susan Ruptash is a Toronto washi artist who works in a variety of paper arts including explorations of handmade heritage washi, printmaking and bookmaking, building on a lifelong fascination with the properties and possibilities of paper. Ruptash's career as an architect has informed her explorations of structure, form, materiality and process. She is a member of Propeller Art Gallery, Open Studio, and the Canadian Bookbinders and Book Artists Guild. Ruptash's work often includes embedded efforts that may not be readily apparent on viewing, but contribute to the finished piece through a curiosity and respect for the materials. For this reason, many of her works appear minimalist at first glance.
Five utilizes konnyaku, a starch that Ruptash often coats her papers with, and crumpling, which she talks about in the episode. We focused on some of the hidden and inherent qualities of Japanese washi that she discovers with minimal intervention. She documents some of her process on her blog.
We talked about Unspun, which is colored with kakishibu (persimmon juice). We talked about the paper she used and why she used it as well as the history of how it was used traditionally.
X is a paper weaving, and we chatted about how it came to be this form.
We neglected to talk about an illuminated piece but wanted to share one here. This is Pine Cone.
Susan Ruptash's recommendations:
++++++
Music featuring excerpts of Makin' Paper folk song by Peter Thomas. Listen to the full song and find out about other paper and book arts folk songs.
Gary A. Hanson did the sound editing for this episode. He practices and refines his skills in audio production while making his own podcast I'll Have a Beer and Talk, a show about tech news, culture, weird animal stories and of course, beer. Gary is also the Deckle in Pulp & Deckle, a Portland-based community hand papermaking studio.
++++++