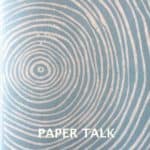 You can listen to this episode by clicking on the white arrow above, (or find more listening options on Anchor.fm) so you never miss an episode. If you enjoy the show, tell a friend about it! Thank you so much.
| | |
| --- | --- |
| | |
Susan Gosin received her MFA from the University of Wisconsin-Madison. In 1976, she co-founded Dieu Donne Press and Paper, Inc. in New York City. As an educator, she has developed curriculum and designed studio programs at The New School, NYC; Rutgers University, NJ and Phumani Archival Mill. Johannesburg, SA. Her artist books have been exhibited and collected by institutions such as the Metropolitan Museum of Art, The Getty Museum and the Library of Congress. In 2006, she received the Printmaker Emeritus Award from the Southern Graphics Council. She has served as an organizer, presenter and curator at numerous conferences, including the 2014 IAPMA conference in Fabriano, Italy, the 2016 IAPMA conference in Brasilia, Brazil, and recently, the 2018 CBAA conference in Philadelphia. As President of Dieu Donne Press she collaborates with international artists and writers such as William Kentridge and Wislawa Szymborska. She also serves as Co-Chair on the Board of Directors of Dieu Donne Papermill, Inc.
Music featuring excerpts of Makin' Paper folk song by Peter Thomas. Listen to the full song and find out about other paper and book arts folk songs.
Gary A. Hanson did the sound editing for this episode. You can find him making audio magic with his podcast series, I'll Have a Beer and Talk, a show about tech news, culture, weird animal stories and of course, beer.