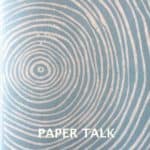 You can listen to this episode by clicking on the white arrow above, (or find more listening options on Anchor.fm) so you never miss an episode. If you enjoy the show, tell a friend about it! Thank you so much.
Shawn Sheehy has been teaching book arts courses and workshops on the national level since 2001 and holds an MFA in the Book Arts from Columbia College Chicago.
Shawn is a Chicago paper artist who uses pop-ups to take full advantage of the expressive potential of a book's imagery, allowing for moving, three-dimensional form within the book format. In this episode, we discussed Shawn's career trajectory from design school to discovering book arts and how he incorporates handmade paper into his artist's books and trade editions.
His broadsides and artist book editions have been collected by numerous prestigious institutions, including Stanford, Carnegie Mellon, University of Chicago, Library of Congress, UCLA, and Harvard.
Shawn's trade pop-up book Welcome to the Neighborwood (a mass-market version of his artist book) was released in 2015, winning numerous awards. He's currently at work on his next trade book—a mass-market version of his artist book Beyond the Sixth Extinction—and it will be released through Candlewick in Autumn 2018.
We also touched on the state of paper engineering today. Shawn is an active board member of the Movable Book Society, a forum for collectors, artists, curators, book sellers, book producers, and others to share enthusiasm and exchange information about pop-up and movable books.
Learn more Shawn and his work at Shawnsheehy.com.
++++++
Music featuring excerpts of Makin' Paper folk song by Peter Thomas. Listen to the full song and find out about other paper and book arts folk songs.
Gary A. Hanson did the sound editing for this episode. You can find him making audio magic with his podcast series, I'll Have a Beer and Talk, a show about tech news, culture, weird animal stories and of course, beer.