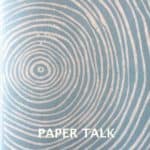 You can listen to this episode by clicking on the white arrow above, or subscribe to the Paper Talk podcast on Apple Podcasts (or find more listening options on Anchor.fm) so you never miss an episode. If you enjoy the show, tell a friend about it! Thank you so much.
Sara Garden Armstrong is a visual artist whose decades-long practice embraces a wide range of scales and techniques, from large site-specific sculpture to artist's books. Lyrical, nature-based biomorphic abstraction characterizes the work, focusing on life processes and systems. It addresses organic change and transformation, while exploring properties of materials. Armstrong received her Master of Fine Arts from the University of Alabama and a Master of Art Education from UAB. After living in New York City for 36 years, in 2017 she returned to Birmingham, where she currently lives and works.
We discussed Sentient Matrix, a recent atrium commission for the National Multiple Sclerosis Society, Alabama-Mississippi Chapter, at the University of Alabama Birmingham (UAB) Medical Center.
The monograph SARA GARDEN ARMSTRONG: Threads and Layers, published in 2020, reveals the influences and concepts that run through her diverse body of work. It coincides with a traveling exhibition of the same name, incorporating site-specific work. The final location will be the Gadsden Museum Art in the fall of 2022.
++++++
Music featuring excerpts of Makin' Paper folk song by Peter Thomas. Listen to the full song and find out about other paper and book arts folk songs.
Gary A. Hanson did the sound editing for this episode. He practices and refines his skills in audio production while making his own podcast I'll Have a Beer and Talk, a show about tech news, culture, weird animal stories and of course, beer. Gary is also the Deckle in Pulp & Deckle, a Portland-based community hand papermaking studio.
++++++