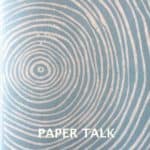 You can listen to this episode by clicking on the white arrow above, or subscribe to the Paper Talk podcast on Apple Podcasts (or find more listening options on Anchor.fm) so you never miss an episode. If you enjoy the show, tell a friend about it! Thank you so much.
Russell Maret is a book artist and letter designer working in New York City. He began printing in San Francisco as a teenager before apprenticing with Peter Koch in Berkeley and Firefly Press in Somerville, Massachusetts. He set up his own press at the Center for Book Arts, New York in 1993 and has been printing and publishing ever since. In 1996 Russell began teaching himself to design letterforms, leading to a twelve year study of letterforms before he completed his first typeface in 2008. In 2011, he began working to convert some of his type designs into new metal typefaces for letterpress printing. Since then he has produced four metal typefaces and four suites of metal ornaments. He has been the printer in residence of the Press in Tuscany Alley, San Francisco (1990); Artist in Residence at the Center for Book Arts, NYC (1996); a Fellow of the American Academy in Rome (2009-2010); the Printer in Residence at the Bodleian Libraries Bibliographical Press (2017); a trustee of the American Printing History Association; the North American Chair of the Fine Press Book Association; and a Master Lecturer in the MFA Book Arts & Printmaking Department of University of the Arts in Philadelphia. Russell's books and manuscripts are in public and private collections throughout the world.
We had a lovely conversation about how Maret got introduced to letterpress printing and book arts in San Francisco, then Boston, and then ended up in New York City, where he lives and works today.
Among other things, we discussed his book, Specimens of Diverse Characters, which involved figuring out how to best print on the 3000 sheets of handmade paper he ordered from Velké Losiny in the Czech Republic. You can read a bit about that here.
This led to another project on handmade paper that we talked about: Hungry Bibliophiles, a cookbook that involved handmade paper from the University of Iowa and encouraged owners of the book to write in the margins, a common practice of early modern bibliophiles.
Watch a video about Tim Barrett's Chancery Papermaking project at the University of Iowa. You can also find an article that describes the creation of the paper and how it was handled for printing in Hand Papermaking Magazine's Winter 2015 Issue (Volume 30, Number 2, page 29).
Russell' Maret's recommendations:
How Printers Dampen and Dry Paper. Maret is producing a series of zines, and this is the latest. We talked briefly about Russells' drying system, which is based on my own system, is documented in the publication, along with several other methods.
Building relationships with papermakers and paper suppliers. Maret has been able to acquire papers and equipment he never thought he'd have access to. He's also been able to fine tune paper formulas for specific book projects by having ongoing relationships with people like Travis Becker at Twinrocker Handmade Paper.
++++++
Visit Russell Maret's website to learn more about him, and Maret writes a lovely blog to document the evolution of his book projects.
++++++
Music featuring excerpts of Makin' Paper folk song by Peter Thomas. Listen to the full song and find out about other paper and book arts folk songs.
Gary A. Hanson did the sound editing for this episode. He practices and refines his skills in audio production while making his own podcast I'll Have a Beer and Talk, a show about tech news, culture, weird animal stories and of course, beer. Gary is also the Deckle in Pulp & Deckle, a Portland-based community hand papermaking studio.
++++++