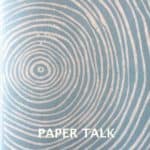 You can listen to this episode by clicking on the white arrow above, or subscribe to the Paper Talk podcast on Apple Podcasts (or find more listening options on Anchor.fm) so you never miss an episode. If you enjoy the show, tell a friend about it! Thank you so much.
Rosston Meyer
is a designer, paper engineer and publisher who creates pop up books under the name Poposition Press. Working mostly with contemporary visual artists, Meyer has self published over 20 pop up books, cards and pop up art prints since he started Poposition in 2013. Published titles include
The Pop Up Art Book
,
The Necronomicon Pop Up Book
and
Dimensional Cannabis: The Pop Up Book of Marijauna
which is a collaboration with six different paper engineers. He is one of just a handful of people in the world that self publishes pop up books, entirely managing each project from design to production to marketing to distribution.
++++++
Rosston Meyer and I met through the Movable Book Society, which provides a forum for artists, book sellers, book producers, collectors, curators, and others to share enthusiasm and exchange information about pop-up and movable books.
We talked about Pop Up Funk, Poposition Press's first pop-up book (2013) that was all produced by hand. This is a re-imagined version with a three dimensional explosion of art from Jim Mahfood the dark master of psychedelic groove.
Here's another book we talked about, Skinner's Necronomicon Pop Up book, which illustrates key moments in the seminal H.P. Lovecraft stories.
At the end of the episode, Meyer shared some exciting news! He is co-publishing
The Complexities of Pop Up,
a follow up to David A. Carter and James Diaz's
The Elements of Pop Up
, widely regarded as the best how to book on paper engineering. In the sequel, Carter and Diaz delve deeper into the structures and mechanisms that are used to create complex pop ups.
Rosston Meyer's Recommendations:
His favorite paper for designing and engineering is Carolina 12 pt from Paperworks.
Meyer got into pop ups through the toy industry and enjoys listening to these podcasts:
The Paper Engineers Unite page on facebook is open to anyone interested in paper engineering.
#popuptober is a fun challenge that takes place on Instagram every October.
Visit Rosston Meyer's website to learn more about his work. You can also get up-to-date information on Instagram.
Music featuring excerpts of Makin' Paper folk song by Peter Thomas. Listen to the full song and find out about other paper and book arts folk songs.
Gary A. Hanson did the sound editing for this episode. He practices and refines his skills in audio production while making his own podcast I'll Have a Beer and Talk, a show about tech news, culture, weird animal stories and of course, beer. Gary is also the Deckle in Pulp & Deckle, a Portland-based community hand papermaking studio.
++++++