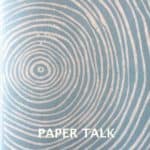 You can listen to this episode by clicking on the white arrow above, or subscribe to the Paper Talk podcast on Apple Podcasts (or find more listening options on Anchor.fm) so you never miss an episode. If you enjoy the show, tell a friend about it! Thank you so much.
Molly Grosse is co-founder of Rock Paper Store and an artist who works in a variety of mediums. Prior to founding Rock Paper Store, she worked as a wedding photographer, and her initial explorations with the paper were wedding products, like party favor boxes, invitations or waterproof flowers. We talk about what Rock Paper is, but once Molly dove into the process of making this paper from rocks (which her mother invented), she began exploring the best way to mix colors and create interesting combinations. She had an aha moment when she realized that the unique colors would make her product an ideal art paper, and she's been focusing on selling sheets of rock paper ever since. Molly learns something new everyday from the wonderful community she has built on social media, and she is always impressed with the beautiful and creative ways that artists are using Rock Paper.
We talked about the many unique qualities of rock paper. One of them is the color palette and unique distribution of color across the sheets, along with some interesting textures.
Rock paper is waterproof, so you can use it for outdoor events or installations.
Rock paper cuts like butter and works with cutting machines too, like the Cricut.
Laurie Moorhead has been exploring paper cutting with Moroccan geometry. Here's a piece that shows off the translucency of rock paper.
++++++
Visit the Rock Paper Store website to learn more about this unique paper, and you can find Rock Paper on Etsy and Instagram too.
++++++
Music featuring excerpts of Makin' Paper folk song by Peter Thomas. Listen to the full song and find out about other paper and book arts folk songs.
Gary A. Hanson did the sound editing for this episode. He practices and refines his skills in audio production while making his own podcast I'll Have a Beer and Talk, a show about tech news, culture, weird animal stories and of course, beer. Gary is also the Deckle in Pulp & Deckle, a Portland-based community hand papermaking studio.
++++++