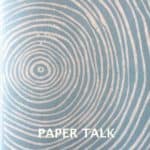 You can listen to this episode by clicking on the white arrow above, or subscribe to the Paper Talk podcast on Apple Podcasts (or find more listening options on Anchor.fm) so you never miss an episode. If you enjoy the show, tell a friend about it! Thank you so much.
Roberto Mannino explores form with an abstract, process oriented, non-realistic approach. In hand papermaking, the very fact that there is a molecular change from liquid to solid implies the presence of natural energies that are embedded in the process itself. Mannino's hands-on practice enables him to have a dialogue with the nature of things in relation to his own personal motivations.
We talked Mannino's video Paper Relief, and he described his sand casting method as well as the way he blows in between two sheets to create sculptural forms. Watch him demonstrate these techniques, along with his other innovative papermaking tricks in the videos, which you can watch in two parts:
Mannino has a permanent installation at the Istituto Nazionale per la Grafica, behind the famous Trevi Fountain in Rome, Italy. Here's a video about this installation:
Mannino's large scale Windimprint series, vacuum formed abaca, linen, and pigment, was recently exhibited in Rome. Each piece measures 170 x 85 cm.
++++++
Music featuring excerpts of Makin' Paper folk song by Peter Thomas. Listen to the full song and find out about other paper and book arts folk songs.
Gary A. Hanson did the sound editing for this episode. He practices and refines his skills in audio production while making his own podcast I'll Have a Beer and Talk, a show about tech news, culture, weird animal stories and of course, beer. Gary is also the Deckle in Pulp & Deckle, a Portland-based community hand papermaking studio.
++++++