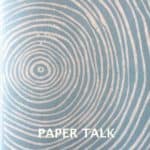 You can listen to this episode by clicking on the white arrow above, or subscribe to the Paper Talk podcast on Apple Podcasts (or find more listening options on Anchor.fm) so you never miss an episode. If you enjoy the show, tell a friend about it! Thank you so much.
Read Island is a children's book featuring cut-paper illustrations. Join a very brave girl and her furry friends on an adventure to Read Island! Through the power of imagination and the pleasure of reading, this curious trio set sail for a magical island made of books. On their way they discover a joyful collection of animals converging by sea and land, just in time for an unforgettable story hour.
Nicole Magistro is the author and publisher of Read Island. She is a professional reader and amateur mother who lives in the mountains of Colorado. She owned The Bookworm of Edwards here in Colorado for 15 years, wrote thousands of book reviews and memorized a few too many bedtime stories. Her favorite place in the world is the real Read Island, which inspired this story. Magistro is also a mentor, journalist, consultant, and community leader.
Alice Feagan is a children's book creator known for her distinct cut-paper collage style in The Collectors and School Days Around the World. Her lifelong love of storytelling and art making led her to the world of picture books where she creates playful illustrations for children's books, magazines, apps, educational products, and games. When she is not making picture books, Alice can be found reading them with her two young sons.
Here are a few of Alice Feagan's digital cut-paper collage illustrations.
There are a few products that were produced in conjunction with Read Island.
++++++
Nicole Magistro's recommendation:
Life, by Cynthia Rylant and Brendan Wenzel
Alice Feagan's recommendation:
The Illustrated Voice, by Craig Frazier, which examines and reveals, in great detail, the thinking process behind the creation of conceptual illustrations.
Visit the Read Island website to learn more about the book and you can find Read Island on Instagram too. Find out more about Alice Feagan's work on her website or on Instagram.
++++++
Music featuring excerpts of Makin' Paper folk song by Peter Thomas. Listen to the full song and find out about other paper and book arts folk songs.
Gary A. Hanson did the sound editing for this episode. He practices and refines his skills in audio production while making his own podcast I'll Have a Beer and Talk, a show about tech news, culture, weird animal stories and of course, beer. Gary is also the Deckle in Pulp & Deckle, a Portland-based community hand papermaking studio.
++++++