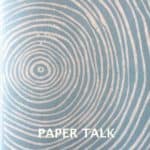 You can listen to this episode by clicking on the white arrow above, or subscribe to the Paper Talk podcast on Apple Podcasts (or find more listening options on Anchor.fm) so you never miss an episode. If you enjoy the show, tell a friend about it! Thank you so much.
Radha Pandey is a papermaker and letterpress printer. She earned her MFA in Book Arts from the University of Iowa Center for the Book where she studied Letterpress printing, Bookbinding, and Papermaking with a focus on Western, Eastern and Indo-Islamic Papermaking techniques. Her artist's books are held in numerous public collections, she has lectured and taught workshops on Indo-Islamic papermaking around the world, and she is currently working on an artists book inspired by Mughal miniature paintings of botanicals from the 17th century. Radha splits her time between India, where she grew up and Norway, where she and her partner Johan Solberg run Halden Bookworks.
We talked the first handmade paper Pandey saw as a child, which was brought to her from Japan by her mother, a puppeteer.
Pandey is an expert in Indo-Islamic papermaking, which she teaches and lectures about.
Her artist's books are in collections around the world.
We discussed her unique watermark animations, which you can watch here.
This is the papermaking studio at Halden Bookworks.
++++++
Radha Pandey's recommendations:
Visit Radha Pandey's website to learn more about her work. You can also find her on instagram @pandey.radha, @haldenbookworks
++++++
Music featuring excerpts of Makin' Paper folk song by Peter Thomas. Listen to the full song and find out about other paper and book arts folk songs.
Gary A. Hanson did the sound editing for this episode. He practices and refines his skills in audio production while making his own podcast I'll Have a Beer and Talk, a show about tech news, culture, weird animal stories and of course, beer. Gary is also the Deckle in Pulp & Deckle, a Portland-based community hand papermaking studio.
++++++