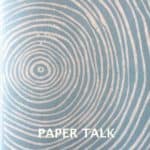 You can listen to this episode by clicking on the white arrow above, (or find more listening options on Anchor.fm) so you never miss an episode. If you enjoy the show, tell a friend about it! Thank you so much.
| | |
| --- | --- |
| Portrait & photo below by Susan Bell | |
Drawing her inspiration from remote landscapes, typography, shorelines, flea-markets and remarkable literary cities, book artist Rachel Hazell takes people on creative journeys, making books and unfolding stories. Home is the city of Edinburgh and the small Hebridean island of Iona. With The Travelling Bookbinder, she holds bookart workshops across the world, from a palazzo in Venice to a library on Nantucket. Her online courses, PaperLove and BookLove enable people, regardless of location, to develop ideas, imagination and technical skill.
Rachel's new book, Bound: 15 Beautiful Bookbinding Projects, is available wherever fine books are sold.
Learn more Rachel's online courses, Book Love & Paper Love
We talked about where Rachel gets her favorite bookbinding supplies: Hewitt & Sons in the UK.
Music featuring excerpts of Makin' Paper folk song by Peter Thomas. Listen to the full song and find out about other paper and book arts folk songs.
Gary A. Hanson did the sound editing for this episode. He practices and refines his skills in audio production while making his own podcast I'll Have a Beer and Talk, a show about tech news, culture, weird animal stories and of course, beer. Gary is also the Deckle in Pulp & Deckle, a Portland-based community hand-papermaking studio.
++++++