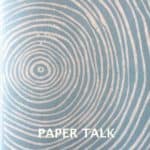 You can listen to this episode by clicking on the white arrow above, (or find more listening options on Anchor.fm) so you never miss an episode. If you enjoy the show, tell a friend about it! Thank you so much.
Priscilla Robinson is an artist who divides her time between studios in Austin, Texas and Taos, New Mexico. In the early 1980's she began working with handmade paper, when she was exhibiting abstract paintings in Santa Fe. Her work has been shown internationally, she exhibits regularly in national and international galleries and she has created commissions for Boston University, Chevron, Vanderbilt University, and Kaiser Permanente to name a few.
Music featuring excerpts of Makin' Paper folk song by Peter Thomas. Listen to the full song and find out about other paper and book arts folk songs.
Gary A. Hanson did the sound editing for this episode. You can find him making audio magic with his podcast series, I'll Have a Beer and Talk, a show about tech news, culture, weird animal stories and of course, beer.