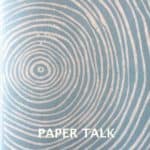 You can listen to this episode by clicking on the white arrow above, (or find more listening options on Anchor.fm) so you never miss an episode. If you enjoy the show, tell a friend about it! Thank you so much.
Peter Dahmen
, born in 1967, studied Communication Design at the University of Applied Sciences and Arts in Dortmund, Germany. Since his studies, he passionately creates three-dimensional folding objects out of paper and cardboard. For a long time, only a few people had seen his work, but that changed dramatically when he published a short film of his paper sculptures in January 2010. Peter's paper artworks became very popular on the internet – with millions of views on his YouTube, Facebook and Pinterest pages (see links below). Since then, he has received commissions from companies worldwide.
Peters pop-up designs range from small-format packaging concepts to large-format stage sets, but he has not yet published a book. Working as a freelancer, he has produced amazing designs for major brand owners, such as
Iggesund paperboard
, for whom he created a spectacular "Snowflake Card", which can be folded in thousands of different ways to show more than 44'000 different snowflake images. He has designed fascinating pop-up sculptures for the American magician Marco Tempest. Some of his exclusive pop-up cards are best sellers at the
MoMA Store in New York
.
Dahmen also creates artistic pop-up sculptures in his studio and says: "I'm mainly interested in exploring what is technically possible. I'm looking for complexity in series and structures. Even though I have been making pop-ups for a long time, it is always a miracle when a three-dimensional object unfolds between two book covers."
Music featuring excerpts of Makin' Paper folk song by Peter Thomas. Listen to the full song and find out about other paper and book arts folk songs.
Gary A. Hanson did the sound editing for this episode. He practices and refines his skills in audio production while making his own podcast I'll Have a Beer and Talk, a show about tech news, culture, weird animal stories and of course, beer. Gary is also the Deckle in Pulp & Deckle, a Portland-based community hand-papermaking studio.
++++++