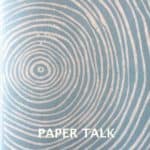 You can listen to this episode by clicking on the white arrow above, (or find more listening options on Anchor.fm) so you never miss an episode. If you enjoy the show, tell a friend about it! Thank you so much.
Photo by Jean Babtiste Mondino
Peter, a student from Holland, and Pat met at California College of Arts and Crafts, where Peter was doing his masters in printmaking and Pat, her bachelors in fiber art. Peter moved back to the Netherlands in 1970 and Pat joined him in 1971. They started exploring the many possibilities of using paper pulp to create art in the early '70's. Working with fibers in sheet form and working three dimensionally, they've discovered a whole world of paper during the last 45 years.
Pat developed a very personal technique of painting with many different paper fibers in an aqua solution. By varying the milling time, a hollander beater can produce a large variation in textures from even one type of fiber. 
Paper is not just an image bearer, but becomes the image itself.
Peter has excelled in paper sculpture. When he had an exposition at the Gothic church at Saint Riquier in France, so many people put pictures of the pieces in the church on the web that his work finally found international recognition. He has made a list of commissioned installations since then, the most noteworthy, two atriums at the Yas Mall, Yas Island, Abu Dhabi, 2014 and in Suzhou Center's 50 meter long atrium, Wind Surfers in a Porcelain Sea, Suzhou, China, installed 2017.
Music featuring excerpts of Makin' Paper folk song by Peter Thomas. Listen to the full song and find out about other paper and book arts folk songs.
Gary A. Hanson did the sound editing for this episode. You can find him making audio magic with his podcast series, I'll Have a Beer and Talk, a show about tech news, culture, weird animal stories and of course, beer.
++++++