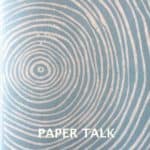 You can listen to this episode by clicking on the white arrow above, (or find more listening options on Anchor.fm) so you never miss an episode. If you enjoy the show, tell a friend about it! Thank you so much.
Papillon Papers is run by Madeleine and Vernon Wiering, a father and daughter design team working together to uncover exciting decorated papers and designs from a variety of historical periods and artistic trends. Digging into the past, they are like design archaeologists, looking at old books and objects to find designs and beautiful papers that we then recreate or use as inspiration for new designs.
And here's the Papillon Flora Mini block printed notebook:
You can read more about Papillon Papers on their website, and follow them on instagram.
Music featuring excerpts of Makin' Paper folk song by Peter Thomas. Listen to the full song and find out about other paper and book arts folk songs.
Gary A. Hanson did the sound editing for this episode. He practices and refines his skills in audio production while making his own podcast I'll Have a Beer and Talk, a show about tech news, culture, weird animal stories and of course, beer. Gary is also the Deckle in Pulp & Deckle, a Portland-based community hand papermaking studio.
++++++