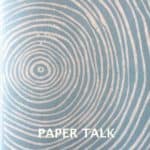 You can listen to this episode by clicking on the white arrow above, (or find more listening options on Anchor.fm) so you never miss an episode. If you enjoy the show, tell a friend about it! Thank you so much.
Isabelle, Katherine and Trinity Adams are the three sisters behind the non-profit Paper For Water. They fold and sell origami products, raising money to bring water and the Word to the thirsty. When the sisters learned about girls world-wide who do not get to go to school because they spend their days hauling water, and that a child dies every 20 seconds from unclean water, they wanted to make a change. Paper For Water seeks to empower the youth in developed countries with skills in leadership, philanthropy, and entrepreneurship. It also wants to improve their understanding, compassion, empathy and to broaden their knowledge of the world around them.
Trinity designed the June project – an origami candy dish – for the Twelve Months of Paper Calendar, and she shows us how to make it in the video above.
View some of Paper For Water's modular origami ornaments here and find out more about their collaboration with Neiman Marcus stores.
Watch Paper For Water on Nickolodeon's Halo Effect. You'll see the special pottery-like origami paper they had printed at Spoonflower!
Watch The Gift of Water video we talk about that shows a family in New Mexico who got water in their home for the first time thanks to Paper for Water.
Keep up to date with Paper for Water on Facebook.
I found this pdf of one of Tomoko Fuse's unit origami books and here's a link to origami artist Ekaterina Lukasheva's website, whom we talk about in the episode.
++++++
Music featuring excerpts of Makin' Paper folk song by Peter Thomas. Listen to the full song and find out about other paper and book arts folk songs.
Gary A. Hanson did the sound editing for this episode. You can find him making audio magic with his podcast series, I'll Have a Beer and Talk, a show about tech news, culture, weird animal stories and of course, beer.