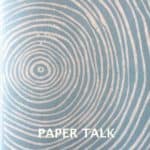 You can listen to this episode by clicking on the white arrow above, (or find more listening options on Anchor.fm) so you never miss an episode. If you enjoy the show, tell a friend about it! Thank you so much.
Oblation Papers & Press is an urban paper mill, letterpress print shop, hand-bindery and fine paper boutique. Our in-house team of designers releases roughly 30 new items annually, inspired by music, quirky conversation, toys, textiles, travel, food, architecture, literature and historical objects.
Our wholesale line of academic, amusing, artisanal paper goods has shown in New York City trade shows for over 20 years and is sold to paper and gift shops internationally, recently exhibiting at Top Drawer London, Maison et Objet Paris 2015, and ISOT Tokyo.
Ron and Jennifer Rich founded Oblation Papers & Press in 1989. Our products are made exclusively in Portland, Oregon, adhering to the highest standards, to assure that our products not only look great, but are lasting and easy to use, as well. While we design and fashion 95% of our books, coasters, die-cut items and paper goods in-house, we do occasionally outsource part of the process to local businesses, still in Portland, Oregon.
At Oblation Papers & Press, we employ traditional techniques to make sheets of cotton paper by hand daily, using recycled remnants from the garment industry. Our paper is strong, acid-free and is perfectly suited for our letterpress printing.
Letterpress printing reflects an era of quality and craftsmanship. This historic method of printing uses raised type and images, inked and pressed into the surface of heavy papers. Sheets are fed by hand, one at a time into cast iron platen presses. Some presses in our studio date back over 100 years. For each order our production staff creates individual plates on location and finishes every piece by hand.
Our concerns for conservation affect everything we do. 26 years after our craft beginnings, we are still making paper and following recycling principals. In fact, our business has its roots in taking unused paper products, converting them back into pulp, and making that into fresh, new paper. Our fiber source is now 100% cotton, acid-free, and recovered from the garment industry. We use machine-made papers with post consumer waste, soy inks, citrus solvents and wind energy. Our collection of antique presses will likely outlive us all, spinning creative design tangibly forward into the next century!
_______________________________________________________________________________________