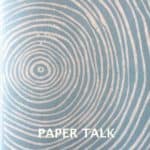 You can listen to this episode by clicking on the white arrow above, or subscribe to the Paper Talk podcast on Apple Podcasts (or find more listening options on Anchor.fm) so you never miss an episode. If you enjoy the show, tell a friend about it! Thank you so much.
Nicole Donnelly
is a hand papermaker and visual artist specializing in sculptural paper artworks and invasive plant papers. She is the President of the International Association of Hand Papermakers and Paper Artists (IAPMA), 2015-2021; and the founder of the creative papermaking studio
paperTHINKtank
. She is master papermaker for The Brodsky Center at PAFA (2019- present) and for The Brandywine Workshop & Archives (2018-present). She teaches paper and book arts at the Pennsylvania Academy of Fine Art and other institutions. She received her MFA from the University of Iowa in 2009 and her BA from Bennington College. She has received grants and fellowships to complete residencies at Obara Paper Art Museum  in Japan; the Philadelphia Museum of Art; Morgan Conservatory of Paper; Goldwell Open Air Museum; Vermont Studio Center; and Women's Studio Workshop; and her artwork has been exhibited throughout the United States and internationally.
++++++
We discussed Nicole's papermaking studio in Philadelphia, PaperTHINKtank.
In 2018, Donnelly created this outdoor temporary art commission Carved in Water.
Music featuring excerpts of Makin' Paper folk song by Peter Thomas. Listen to the full song and find out about other paper and book arts folk songs.
Gary A. Hanson did the sound editing for this episode. He practices and refines his skills in audio production while making his own podcast I'll Have a Beer and Talk, a show about tech news, culture, weird animal stories and of course, beer. Gary is also the Deckle in Pulp & Deckle, a Portland-based community hand papermaking studio.
++++++