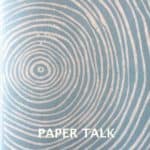 You can listen to this episode by clicking on the white arrow above, (or find more listening options on Anchor.fm) so you never miss an episode. If you enjoy the show, tell a friend about it! Thank you so much.
| | |
| --- | --- |
| | |
Mina Takahashi is Editor of Hand Papermaking magazine, a non-profit biannual publication chronicling the finest work in the field while advancing the scholarship and facilitating the production of handmade paper and paper art. She is a member of the board of directors of Dieu Donné Papermill, New York, where she served as executive director from 1990 to 2004. Trained originally in Japanese papermaking, she teaches and consults on the artistic and craft applications of hand papermaking across the country and internationally. Takahashi is currently co-curating an exhibition with Susan Gosin, titled Paper/Print: American Hand Papermaking, 1960s to Today, the first comprehensive retrospective tracing the development of hand papermaking as an outgrowth of the printmaking renaissance. The exhibition, accompanied by an illustrated publication, will be presented at the International Print Center New York, April 5 through June 14, 2018. Takahashi lives in upstate New York, where she is a working member of BUSHEL Collective in the town of Delhi.
Music featuring excerpts of Makin' Paper folk song by Peter Thomas. Listen to the full song and find out about other paper and book arts folk songs.
Gary A. Hanson did the sound editing for this episode. You can find him making audio magic with his podcast series, I'll Have a Beer and Talk, a show about tech news, culture, weird animal stories and of course, beer.
++++++