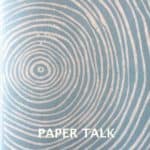 You can listen to this episode by clicking on the white arrow above, (or find more listening options on Anchor.fm) so you never miss an episode. If you enjoy the show, tell a friend about it! Thank you so much.
Melissa Potter
is a multi-media artist whose work deals with women and their rites of passage from marriage to motherhood. She exhibited at venues including White Columns, and Bronx Museum of the Arts, as well as film festivals including the VideoDumbo Festival and the Reeling International LGBT Film Festival. She is a three-time Fulbright recipient to Serbia and Bosnia and Hercegovina. Through these programs, she built two papermaking studios at university art departments. She has been the recipient of other awards and residencies including the Soros Fund for Arts and Culture, ArtsLink and the Trust for Mutual Understanding. Potter co-curated exhibitions including Social Paper, the first exhibition considering hand papermaking in a socially engaged art context, and Among Tender Roots, the first retrospective of Mexican artist, Laura Anderson Barbata's work. Her critical essays have been printed in BOMB, Art Papers, Flash Art, Metropolis M, Hand Papermaking, and AfterImage among others. She is founder of the blog,
Gender Assignment
.

She is currently an Associate Professor in the Art & Art History Program at Columbia College Chicago.
Music featuring excerpts of Makin' Paper folk song by Peter Thomas. Listen to the full song and find out about other paper and book arts folk songs.
Gary A. Hanson did the sound editing for this episode. You can find him making audio magic with his podcast series, I'll Have a Beer and Talk, a show about tech news, culture, weird animal stories and of course, beer.