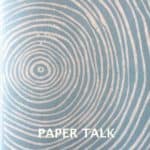 You can listen to this episode by clicking on the white arrow above, (or find more listening options on Anchor.fm) so you never miss an episode. If you enjoy the show, tell a friend about it! Thank you so much.
Melissa Jay Craig
makes books, objects and installations using plant-derived materials. She is 96% retired from teaching and lives in Chicago where she grows milkweed, raises the Monarch butterflies it hosts, then harvests, processes and works with the fiber.
Here's a photo of the installation S/Edition that went viral on
This Is Colossal
.
Music featuring excerpts of Makin' Paper folk song by Peter Thomas. Listen to the full song and find out about other paper and book arts folk songs.
Gary A. Hanson did the sound editing for this episode. You can find him making audio magic with his podcast series, I'll Have a Beer and Talk, a show about tech news, culture, weird animal stories and of course, beer.