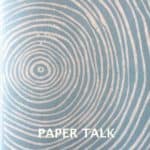 You can listen to this episode by clicking on the white arrow above, or subscribe to the Paper Talk podcast on Apple Podcasts (or find more listening options on Anchor.fm) so you never miss an episode. If you enjoy the show, tell a friend about it! Thank you so much.
Meg Black is an artist and art historian who studies historical works of art and connects her work to the great artists who have come down to us through the ages. The subject of her work is nature and its impact on our sensory experience, and she studies how artists have recorded nature, and considers these approaches in her own designs. She doesn't try to copy the natural world as she sees it but, rather, as she feels it. Black's paintings and wall reliefs are made with abaca, a fiber that she is constantly discovering the potential for and is challenged by. She finds that the texture of this material provides an almost three-dimensional quality to the surface of her work, mimicking nature in all its splendor.
++++++
We talked about working with an artist coach, specifically Alyson Stanfield, who runs Art Biz Success.
Black was the first intern at the Women's Studio Workshop, a studio in NY State that envisions a society where women's visual art is integral to the cultural mainstream and permanently recorded in history.
Visit Black's website to see more of her paintings hanging in corporate, health care, residential and public collections and learn more about her work.
++++++
Music featuring excerpts of Makin' Paper folk song by Peter Thomas. Listen to the full song and find out about other paper and book arts folk songs.
Gary A. Hanson did the sound editing for this episode. He practices and refines his skills in audio production while making his own podcast I'll Have a Beer and Talk, a show about tech news, culture, weird animal stories and of course, beer. Gary is also the Deckle in Pulp & Deckle, a Portland-based community hand papermaking studio.
++++++