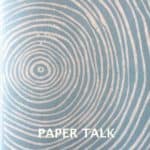 You can listen to this episode by clicking on the white arrow above, or subscribe to the Paper Talk podcast on Apple Podcasts (or find more listening options on Anchor.fm) so you never miss an episode. If you enjoy the show, tell a friend about it! Thank you so much.
Matthew Reinhart is a world-renowned children's book author, illustrator and paper engineer, known best for cutting and folding paper into gravity-defying pops in his acclaimed pop-up books.
++++++
His New York Times bestselling titles include Harry Potter: A Pop-Up Guide to Hogwarts,
Star Wars: A Pop-Up Guide to the Galaxy
Mommy? created with children's book legend Maurice Sendak.
Reinhart's Encyclopedia Prehistorica and Encyclopedia Mythologica series have been translated into many languages for readers all over the world.
Reinhart is happily married, loves every second of his work and enjoys sharing new crafts with creators of all ages on Youtube each week.
++++++
Matthew Reinhart's recommendations:
Paperpapers.com. Reinhart uses 80# card stock and recommends being consistent with paper – if you design something in one paper and try to rebuild the dummy in a different paper, the mechanisms might not work the same.
V-Folds are essential for any form of movement. Reinhart has several V-Fold tutorials on youtube. Here's Part 1.
Scissors: he recommends having a big and small pair, and using scissors that feel good in your hands.
X-acto knives are imperative. Get one that you are comfortable using. Watch Helen's video about sharpening your blades.
He uses a steel straight knitting needle as a bone folder, or a big paperclip in a pinch.
For paper engineering, he uses white artist's tape (not repositionable) or masking tape and double-sided tape.
He use a Cintiq drawing tablet and the GraphTech CE6000 40+ vinyl cutter and plotter.
Visit the Matthew Reinhart's website and Instagram to learn more about his work.
++++++
Music featuring excerpts of Makin' Paper folk song by Peter Thomas. Listen to the full song and find out about other paper and book arts folk songs.
Gary A. Hanson did the sound editing for this episode. He practices and refines his skills in audio production while making his own podcast I'll Have a Beer and Talk, a show about tech news, culture, weird animal stories and of course, beer. Gary is also the Deckle in Pulp & Deckle, a Portland-based community hand papermaking studio.
++++++