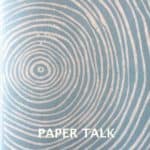 You can listen to this episode by clicking on the white arrow above, (or find more listening options on Anchor.fm) so you never miss an episode. If you enjoy the show, tell a friend about it! Thank you so much.
Matt Simpson is CEO of Green Banana Paper, a social-enterprise he founded to address the scarcity of job opportunities in Micronesia, that is forcing younger generations of islanders to trade their beautiful home and families for minimum wage jobs in the USA. Green Banana Paper sustainably and ethically manufactures handmade vegan wallets and paper products from recycled agricultural banana waste in Kosrae, Micronesia. The company exhibits at trade shows and festivals, including the Hawaii Ink & Art Expo, ASD Market Week in Las Vegas, and Pacific Trade & Invest in New Zealand. Matt lived on Wotje Atoll in the Marshall Islands as a volunteer high school teacher with the WorldTeach program in 2007. The following year he moved to Kosrae, Micronesia, and coordinated the WorldTeach program there. He taught at the single high school on the island for four more years. Through this cultural immersion he learned local languages, customs, and lifestyles. Green Banana Paper has been featured on Mashable, One Green Planet, Pacific Daily News, and other online platforms.
Music featuring excerpts of Makin' Paper folk song by Peter Thomas. Listen to the full song and find out about other paper and book arts folk songs.
Gary A. Hanson did the sound editing for this episode. You can find him making audio magic with his podcast series, I'll Have a Beer and Talk, a show about tech news, culture, weird animal stories and of course, beer.