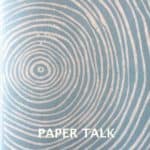 You can listen to this episode by clicking on the white arrow above, or subscribe to the Paper Talk podcast on Apple Podcasts (or find more listening options on Anchor.fm) so you never miss an episode. If you enjoy the show, tell a friend about it! Thank you so much.
Marianne R. Petit is an artist and educator whose work explores fairy tales, anatomical obsessions, graphic and narrative medicine, as well as collective storytelling practices through mechanical books that combine animation and paper craft. Her interests are in combining technology, traditional book arts, and sequential storytelling to create new forms of narrative for the 21st century. Her movable books can be found in numerous museum and library collections. Her artwork has appeared internationally in festivals and exhibitions, been featured in publications such as Hyperallergic, Make, and Wired, and broadcast on IFC and PBS.
We discussed Petit's ongoing project, Recollecting Adams, which features her unique illustrations and tells the story of this small town in the Northern Berkshires. Told through first-person accounts, "Recollecting Adams" is a 20-part web-based animation series.
We talked about a few of her print projects, including The Struwwelpeter and More Morbid Tales, which she illustrated, paper engineered and crowdfunded.
Petit designed one of the projects in my book, The Art of Papercraft: an Inflatable Paper Votive, based on her Portable Reusable Inflatable paper Votive Kit for Meditation on the Seven Virtues.
++++++
Music featuring excerpts of Makin' Paper folk song by Peter Thomas. Listen to the full song and find out about other paper and book arts folk songs.
Gary A. Hanson did the sound editing for this episode. He practices and refines his skills in audio production while making his own podcast I'll Have a Beer and Talk, a show about tech news, culture, weird animal stories and of course, beer. Gary is also the Deckle in Pulp & Deckle, a Portland-based community hand papermaking studio.
++++++