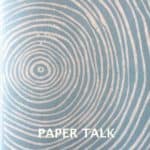 You can listen to this episode by clicking on the white arrow above, (or find more listening options on Anchor.fm) so you never miss an episode. If you enjoy the show, tell a friend about it! Thank you so much.
| | |
| --- | --- |
| | |
2016 Smithsonian Artist Research Fellow and current National Museum of Natural History Research Associate; Lynn Sures is a Washington, DC based artist working in handmade paper, pulp painting, drawing, artist books, printmaking, and ceramic sculpture. Her focus is the nexus between art and science, in which she considers the physical world and its juncture with the origins of humans—noting that early humans' interdependence with ecology has currency with our contemporary discourse. Her work is held in collections including the United States Department of State, the US Library of Congress, Yale University, New York Public Library's Schomburg Collection, the Fabriano Museo della Carta e della Filigrana, and the American Museum of Papermaking. Lynn has exhibited in solo shows in New York, Istanbul, and Mexico City, and created art works for events in Australia, Japan, Italy. In Sri Lanka, she was a U.S. State Department American Artist Abroad. Her artist books have appeared in several published collections, including the Penland Book of Handmade Books. She has had artist residencies at the Museu Molì Paperer de Capellades, Spain; The Pittman/Corcoran Residency at San Miguel de Allende, Mexico; and the Accademia delle Arti Cartarie, Fabriano, Italy. She was guest editor of the 2016 Winter issue of Hand Papermaking magazine, on the papermaking of Italy.
You might be interested in reading more about these topics that we discussed:
The National Collegiate Handmade Paper Art Trienniale, which offers college students a way to show the country what they add to the field of handmade paper art.
The Friends of Dard Hunter an organization in the United States that connects, encourages, and educates anyone interested in hand papermaking.
The Paper/Print/Book 2019 tour of Northern Italy, which Lynn has led for numerous years.
You can read more about Lynn on her website, and follow her on facebook and instagram.
Music featuring excerpts of Makin' Paper folk song by Peter Thomas. Listen to the full song and find out about other paper and book arts folk songs.
Gary A. Hanson did the sound editing for this episode.  He practices and refines his skills in audio production while making his own podcast I'll Have a Beer and Talk, a show about tech news, culture, weird animal stories and of course, beer. Gary is also the Deckle in Pulp & Deckle, a Portland-based community hand papermaking studio.
++++++