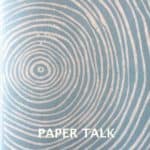 You can listen to this episode by clicking on the white arrow above, (or find more listening options on Anchor.fm) so you never miss an episode. If you enjoy the show, tell a friend about it! Thank you so much.
Laurence Barker, an eloquent apologist for the history and artistic potential of the handmade paper medium, wrote that it is "precisely in the hyphen between support and medium, where ground becomes figure, that much untapped poetry resides, acting paper that is in turn acted upon….Like a rheostat, paper can be easily dialed down, as it were, to the near-zero assertiveness of pure support –i.e., sheets that are white, smooth, and square – as it can be cranked up through stages to an intensity of activity that is pure medium."
Barker was head of the printmaking department at Cranbrook Academy of Art in Bloomfield Hills, Michigan from 1960 to 1970. He cites as a "key moment" in his life, when in 1962, a student gave him a piece of Douglass Howell's handmade paper. Barker recalled, "This wrinkled, semi-translucent paper discreetly proclaimed a life of its own." Barker attended a two-week seminar at Howell's Long Island home and mill that summer. Upon returning to Cranbrook, Barker assembled the necessary equipment to establish a fine arts papermill, which opened in January 1963 as the first university-based papermaking program in America. Barker's program at Cranbrook ultimately served as the breeding ground for some of America's leading papermakers, including Walter Hamady of Perishable Press, John Koller of HMP Papers in Connecticut, Aris Koutroulis (who, in turn, taught Kathryn Clark of Twinrocker Papers), Winifred Lutz, and Roland Poska of Fishy Whale Press.
Music featuring excerpts of Makin' Paper folk song by Peter Thomas. Listen to the full song and find out about other paper and book arts folk songs.
Gary A. Hanson did the sound editing for this episode. He practices and refines his skills in audio production while making his own podcast I'll Have a Beer and Talk, a show about tech news, culture, weird animal stories and of course, beer. Gary is also the Deckle in Pulp & Deckle, a Portland-based community hand-papermaking studio.
++++++