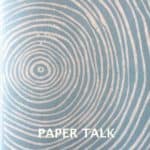 You can listen to this episode by clicking on the white arrow above, or subscribe to the Paper Talk podcast on Apple Podcasts (or find more listening options on Anchor.fm) so you never miss an episode. If you enjoy the show, tell a friend about it! Thank you so much.
Kelsey Pike is a production papermaker based in Kansas City, Missouri. She learned papermaking and started her brand Sustainable Paper And Craft while attending the local art institute in 2010 and since then she's sold over 100 thousand sheets of paper. She specializes in papers specifically designed for artists and makers, made from recycled fabric and other sustainable fibers. She's currently searching for a long term apprentice who will work with her in the studio for the next few years to learn the tedious and back-breaking process.
++++++
We talk about the coop studio that Pike founded – the Cherry Pit Collective – an all-women's artist and makers studio space, where she has her papermaking studio.
Sustainable Paper + Craft turns rags and raw plant fibers into beautiful sheets of paper.
Pike has several lines of stock papers, like this Mixed Media Collection, which work well for all fine art media – draw with pencils, charcoal, conte, pastel, or paint with acrylic, watercolor, ink, and gouache.
Visit Sustainable Paper + Craft to learn more about Kelsey Pike's work, and you can also find her on Etsy and Instagram.
++++++
Music featuring excerpts of Makin' Paper folk song by Peter Thomas. Listen to the full song and find out about other paper and book arts folk songs.
Gary A. Hanson did the sound editing for this episode. He practices and refines his skills in audio production while making his own podcast I'll Have a Beer and Talk, a show about tech news, culture, weird animal stories and of course, beer. Gary is also the Deckle in Pulp & Deckle, a Portland-based community hand papermaking studio.
++++++