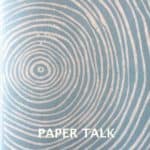 You can listen to this episode by clicking on the white arrow above, or subscribe to the Paper Talk podcast on Apple Podcasts (or find more listening options on Anchor.fm) so you never miss an episode. If you enjoy the show, tell a friend about it! Thank you so much.
Kelli Anderson is a designer and paper engineer whose work operates in the space between conceptual art, graphic design, and tech. Her whimsical books have featured a working paper planetarium, a pop-up pinhole camera, and a paper record player. Whenever she can, she uses humble, lo-fi materials to expose the invisible magic of the world and make abstract concepts real and tangible. Anderson's work puts forth the idea that lo-fi, handheld experiences can challenge the notion of tech as an inaccessible black box. Her first book, a functional pop-up camera titled, "This Book is a Camera," was published by the Museum of Modern Art in 2016. Her paper record player invitation, her TED talk, and her work on Tinybop's "The Human Body" are widely-beloved for showcasing the possibility hiding in plain view in our world.
We had a lovely conversation about Anderson's varied paper projects and her deep thinking behind them.
We started out talking about Anderson's Existential Calculator, which is a volvelle structure – an historic paper structure used for keeping time in old books.
She created this novel book, This Book is a Camera, a real camera that you can take pictures with!
Within the pages of This Book is a Planetarium you will find: a stringed instrument, a perpetual calendar, a decoder ring, a spiralgraph drawing generator, a smartphone speaker, and—yes—a constellation-projecting planetarium. With a little tinkering, turning, and futzing: the resulting paper objects actually work! (despite of being made from "almost nothing.")
She created this animation from paper and computers for NPR called Talking While Female about how women's voices are judged. Click through to see the evolution of this project, and you can read more about her human body animation  for Tinybop here.
++++++
Kelli Anderson's recommendations:
The risograph and the small press movement more broadly.
Local communities in New York City: The Arm (a printshop), the School for Poetic Computation (an artist-run school in New York that focuses on the intersections between code, design, hardware and theory), and Babycastles (a NYC based collective centered around video game culture).
The Movable Book Society, a forum for artists, book sellers, book producers, collectors, curators, and others to share enthusiasm and exchange information about pop-up and movable books.
Anderson finds teaching to be really inspiring and believes in that zen notion of the beginners mind. I recently took her paper engineering class at Cooper Union (contact the school for current class information).
Visit Kelli Anderson's website to learn more about her work. You can also find her on instagram.
++++++
Music featuring excerpts of Makin' Paper folk song by Peter Thomas. Listen to the full song and find out about other paper and book arts folk songs.
Gary A. Hanson did the sound editing for this episode. He practices and refines his skills in audio production while making his own podcast I'll Have a Beer and Talk, a show about tech news, culture, weird animal stories and of course, beer. Gary is also the Deckle in Pulp & Deckle, a Portland-based community hand papermaking studio.
++++++