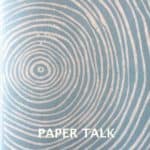 You can listen to this episode by clicking on the white arrow above, or subscribe to the Paper Talk podcast on Apple Podcasts (or find more listening options on Anchor.fm) so you never miss an episode. If you enjoy the show, tell a friend about it! Thank you so much.
June Tyler has been a visual artist for over 40 years and been involved in papermaking for 32 years. Her studio, Pondside Pulp and Paper was established in 1995 in Norwich, NY, where she has offered workshops during the summer and fall months. Tyler has spent most of her professional career teaching at various colleges, as well as offering workshops at her studio and other venues. Tyler likes to work in a variety of media: Painting, drawing, printmaking, artist books, papermaking, sculpture and mixed media, depending on the idea or imagery she is pondering at the time. Her work has been shown in solo, group and juried exhibitions.
Her teaching topics include making big sheets, pulp spraying (above), and working with natural armatures (below). Tyler made this video in which she demonstrates the construction of one of her luminaire.
We discussed the 25th Anniversary exhibition of work created by workshop participants over the years, which was held July 16 – 30, 2021, at the Mariea Brown and Raymond Loft Galleries, Chenango Arts Council in Norwich, NY. Fourteen artists exhibited a variety of work, including pulp paintings, sculpture, an artist book, collages, printmaking, and encaustics. Tyler is pictured below with some of her work at the exhibition.
We share an interest in paper + light!
In conjunction with the exhibit, Tyler created a video demonstration on papermaking and a video of all the works in the show.
++++++
June Tyler's recommendations:
We talked about black "power mesh", which is like panty hose for making sculptural armatures. The item number is SV570580.
We talked about Tony Carlone, who has taught workshops at Pondside Pulp & Paper, and he constructed the large deckle boxes for the studio.
Zea Mays is a printmaking studio in Massachussetts. 
Golden Paints is near Tyler's studio. In addition to selling all kinds of paint media, they have an artist residency program. 
Tyler recommends Carriage House Paper for all of your papermaking supplies.
Hand Papermaking produces THE journal for our field.
Visit June Tyler's website and you can find her on Facebook and Instagram.
++++++
Music featuring excerpts of Makin' Paper folk song by Peter Thomas. Listen to the full song and find out about other paper and book arts folk songs.
Gary A. Hanson did the sound editing for this episode. He practices and refines his skills in audio production while making his own podcast I'll Have a Beer and Talk, a show about tech news, culture, weird animal stories and of course, beer. Gary is also the Deckle in Pulp & Deckle, a Portland-based community hand papermaking studio.
++++++