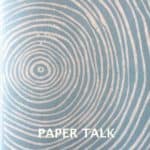 You can listen to this episode by clicking on the white arrow above, or subscribe to the Paper Talk podcast on Apple Podcasts (or find more listening options on Anchor.fm) so you never miss an episode. If you enjoy the show, tell a friend about it! Thank you so much.
John Sullivan started Logos Graphics 46 years ago when he moved to San Francisco, CA. The shop transitioned from offset lithography to letterpress in 2000, and it was letterpress printing that sparked Sullivan's interest in the subtleties of paper. As digital presses captured a larger portion of the print market. there was a narrowing of paper texture, color and thickness. Ten years ago Sullivan started saving the off-cuts from Cranes Lettra 100% cotton paper, then beating, coloring and forming that cotton pulp into new paper for short run broadsides. Five years ago, he added a CNC router to the shop, which opened the door to carving 3 dimensional molds for cast paper. After seeing Brian Queen's 3D printed mold, deckle and laid mold surfaces, Sullivan acquired a 3D printer and has been creating moulds and deckles with interchangeable screen surfaces up to 16 x 20, plus assorted shaped deckles.
++++++
Here are a few shop photos featuring vats, a rolling couching stand, the press and a drying stand.
A Reina beater.
Here are some of Sullivan's 3D printed moulds and CNC routed deckles. As of February, 2021: these will be available at Logos Graphics soon!
Sullivan created a shaped deckle for this piece by artist Julie McLaughlin.
Visit Logos Graphics to learn more about his work, and you can also find Sullivan on instagram.
++++++
Music featuring excerpts of Makin' Paper folk song by Peter Thomas. Listen to the full song and find out about other paper and book arts folk songs.
Gary A. Hanson did the sound editing for this episode. He practices and refines his skills in audio production while making his own podcast I'll Have a Beer and Talk, a show about tech news, culture, weird animal stories and of course, beer. Gary is also the Deckle in Pulp & Deckle, a Portland-based community hand papermaking studio.
++++++