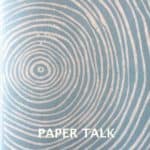 You can listen to this episode by clicking on the white arrow above, (or find more listening options on Anchor.fm) so you never miss an episode. If you enjoy the show, tell a friend about it! Thank you so much.
On today's episode of Paper Talk, I'm talking with Jenn Woodward, artist and small business owner living and working in Portland, OR. We talked about how Jenn's business, Pulp & Deckle Studio, has grown over the past decade with the help of a successful Kickstarter campaign and a business incubator program (all part of her business plan) and which has led, among other things, to a residency program that allows artists working in other media to explore hand papermaking. We also talked about Jenn's recent portrait project, Fruits of the Sun, which involved drawing 100 portraits of strangers on handmade paper with embedded seeds, which were then planted in community gardens around Portland.
New this episode: Music featuring excerpts of Makin' Paper folk song by Peter Thomas. Listen to the full song and find out about other paper and book arts folk songs.
Gary A. Hanson did the sound editing for this episode. When he's not making paper, or whipping the administrative/technology side of the Pulp & Deckle Studio into shape, you can find him making audio magic with his podcast series, I'll Have a Beer and Talk, a show about tech news, culture, weird animal stories and of course, beer.
More about Jenn: Jennifer J. Woodward is an artist and small business owner living and working in Portland, OR. With a background focused on mixed media installation, drawing and papermaking, Jenn is currently exploring the relationship between local and sustainable materials and the themes of empathy, identity and mindfulness in her art practice. After attending the High School for Performing & Visual Arts in Houston, she received her BFA from Sarah Lawrence College, and her MFA from the joint degree program at The School of the Museum of Fine Arts, Boston & Tufts University in 2006. In the fall of 2012 Jenn and her husband Gary A. Hanson established Pulp & Deckle, a community papermaking studio that offers workshops, demos, custom orders and a papermaking artist residency program in partnership with the non-profit organization, c3:initiative. In addition to teaching at the studio Jenn is a guest instructor at locations throughout Oregon, including Sitka Center for Art & Ecology, Portland Community College and WildCraft Studio School.