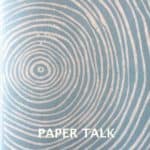 You can listen to this episode by clicking on the white arrow above, (or find more listening options on Anchor.fm) so you never miss an episode. If you enjoy the show, tell a friend about it! Thank you so much.
Hedi Kyle was born in Berlin, graduated in 1959 from the Werk-Kunst-Schule in Wiesbaden, Germany, with a degree in graphic design, and shortly thereafter emigrated to the United States. In the decades since, Hedi has spent her career revolutionizing the field of book arts, teaching workshops throughout the United States, Canada, and Europe.
Trained as an architect at the Cooper Union, Ulla Warchol worked in the field while developing a multidisciplinary approach to structure. She leans toward a broad exploration of materials and techniques in both large-scale works—interiors, buildings, and set design—and small-scale works—books, fabrication, and collaborations with artists.
++++++
Hedi & Ulla have collaborated on a book, The Art of the Fold, which we discuss in great detail on the podcast.
We also chat about French Paper Co., which carries a variety of great papers for the structures in the book. I ordered their sample books right after the interview!
And we talk about Zaansch Bord, which was originally made from the old windmill sails in the Netherlands. Hedi is particularly fond of this paper.
And here are a few of the projects that you'll find in the book!
++++++
Music featuring excerpts of Makin' Paper folk song by Peter Thomas. Listen to the full song and find out about other paper and book arts folk songs.
Gary A. Hanson did the sound editing for this episode. You can find him making audio magic with his podcast series, I'll Have a Beer and Talk, a show about tech news, culture, weird animal stories and of course, beer.
++++++