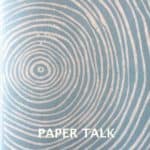 You can listen to this episode by clicking on the white arrow above, or subscribe to the Paper Talk podcast on Apple Podcasts (or find more listening options on Anchor.fm) so you never miss an episode. If you enjoy the show, tell a friend about it! Thank you so much.
Gill Wilson's background is rooted in craft practice, and she has had a papermaking studio for over 30 years. She studied papermaking in Japan after University. Since then, she has been a university lecturer and has worked as an advisor for Arts Council England. She was the manager of the Harley Gallery and is currently a director of Gallerytop.
Wilson's work has a deep relationship with nature and plants, the tones changing across the seasons. She abandoned sheet forming to work freely with pulp using it to draw with. Her pieces are built in layers, soft drawings that describe her preoccupation with contemporary space that can be changed with light and subtlety. The malleability of the material offers exciting possibilities. 
We talked about how Wilson works with a variety of art consultants, who place her work all over the world. She produces commissions for architects, interior designers and private clients.
Wilson worked in collaboration with Guilded, a design company run by Charlotte Bowater and the luxury brand Smythson of Sloane Street to celebrate London Craft week in 2021. She aimed to produce a series of work inspired by the Smythson story and their use of pure plant fibre, gold leaf and the signature blue.
Gill Wilson's recommendations:
++++++
Visit Gill Wilson's website to learn more about her, and you can follow her on Instagram.
++++++
Music featuring excerpts of Makin' Paper folk song by Peter Thomas. Listen to the full song and find out about other paper and book arts folk songs.
Gary A. Hanson did the sound editing for this episode. He practices and refines his skills in audio production while making his own podcast I'll Have a Beer and Talk, a show about tech news, culture, weird animal stories and of course, beer. Gary is also the Deckle in Pulp & Deckle, a Portland-based community hand papermaking studio.
++++++