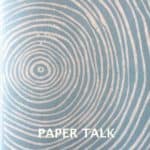 You can listen to this episode by clicking on the white arrow above, or subscribe to the Paper Talk podcast on Apple Podcasts (or find more listening options on Anchor.fm) so you never miss an episode. If you enjoy the show, tell a friend about it! Thank you so much.
Erica Spitzer Rasmussen (pictured wearing Book of Desires) is an artist who creates handmade paper garments and small editions of hand-bound books. Her current work explores family stories and issues of identity. Her work has been featured in such magazines as FiberArts, Surface Design Journal, American Craft and Hand Papermaking.  Rasmussen teaches studio arts as a full professor at Metropolitan State University in St. Paul, Minnesota (USA).  Her artwork is exhibited and collected internationally.
++++++
We had a lively conversation about several of Rasmussen's handmade paper garments and the unusual materials that find their way into some of them. We talked about the circumstances that led to the Placenta Incident.
As a general rule, Rasmussen's sculptural work is inspired by childhood myths or adult anxieties regarding her body. Patch and Repair features bandaids.
She uses clothing as subject matter because it provides her a ground on which to investigate identity and corporeality. Her garments are metaphors. They can encompass narrative qualities, illustrate and dissolve bodily fears, or act as talismanic devices. This is Juju Dress.
In addition to utilizing handmade paper, she often incorporates non-archival media into her work. Intimacy of Memory incorporates dehydrated tomatoes and human hair.
We also talk about Red Tape Cape in the episode.
Erica Spitzer Rasmussen's recommendations:
Rasmussen prepares her pulp in an Oracle Beater
Flocking is a joy because it's so quick and introduces a new texture to the work.
Guillotine for cutting multiple sheets of paper
Visit Erica Spitzer Rasmussen's website to learn more about her work, and you can also find her on Instagram.
++++++
Music featuring excerpts of Makin' Paper folk song by Peter Thomas. Listen to the full song and find out about other paper and book arts folk songs.
Gary A. Hanson did the sound editing for this episode. He practices and refines his skills in audio production while making his own podcast I'll Have a Beer and Talk, a show about tech news, culture, weird animal stories and of course, beer. Gary is also the Deckle in Pulp & Deckle, a Portland-based community hand papermaking studio.
++++++