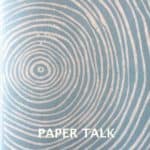 You can listen to this episode by clicking on the white arrow above, or subscribe to the Paper Talk podcast on Apple Podcasts (or find more listening options on Spotify) so you never miss an episode. If you enjoy the show, tell a friend about it! Thank you so much.
Ilze Dilane is a papermaker and artist in Riga, Latvia who runs a papermaking studio out of the Pardaugava Music and Art School, where she teaches children, teachers and adults about the art and craft of handmade paper. Dilane also runs an annual papermaking symposium in Rite, Latvia.
Dilane has an expertise in paper clay – she completed a masters program in ceramics through the Latvian Academy of Art in 2021, which included research in Italy, Finland and Estonia.
Visit Dilane's Etsy shop to find a variety of paper art and paper products.
Music featuring excerpts of Makin' Paper folk song by Peter Thomas. Listen to the full song and find out about other paper and book arts folk songs.
Gary A. Hanson did the sound editing for this episode. He practices and refines his skills in audio production while making his own podcast I'll Have a Beer and Talk, a show about tech news, culture, weird animal stories and of course, beer. Gary is also the Deckle in Pulp & Deckle, a Portland-based community hand papermaking studio.
++++++