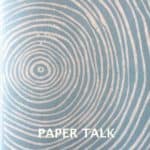 You can listen to this episode by clicking on the white arrow above, or subscribe to the Paper Talk podcast on Apple Podcasts (or find more listening options on Spotify) so you never miss an episode. If you enjoy the show, tell a friend about it! Thank you so much.
++++++
This episode highlights the new book, Modern Papermaking, by Kelsey Pike.
The ultimate guide to papermaking
Making your own paper is a mesmerizing and versatile craft. Let Modern Papermaking show you how to create countless paper sheets with a few tools and practice. Among many other things, the paper you make can be a foundation for painting, illustration, stationery, and lettering. Handmade paper can upgrade the starting point of your creative work, or you can use the techniques to create stand-alone works of art to display, gift, and share. The craft is relatively easy and accessible since all the essential tools and supplies needed can be DIY'd, recycled, and thrifted.
Includes 13 projects, ranging from bold and eye-catching to professional and fine-art quality
Get tips and practical advice on selling your one-of-a-kind paper collections for other makers to use in their 2D work.
With an endless variety of add-ins and decorative techniques, papermaking is an infinitely entertaining skill.
I recorded some video footage of several of the papermaking tools, tips and projects that are featured in the book.
++++++
Music featuring excerpts of Makin' Paper folk song by Peter Thomas. Listen to the full song and find out about other paper and book arts folk songs.
Gary A. Hanson did the sound editing for this episode. He practices and refines his skills in audio production while making his own podcast I'll Have a Beer and Talk, a show about tech news, culture, weird animal stories and of course, beer. Gary is also the Deckle in Pulp & Deckle, a Portland-based community hand papermaking studio.
++++++