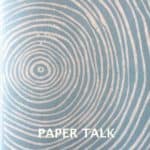 You can listen to this episode by clicking on the white arrow above, or subscribe to the Paper Talk podcast on Apple Podcasts (or find more listening options on Spotify) so you never miss an episode. If you enjoy the show, tell a friend about it! Thank you so much.
Dorothy Field is a visual artist who uses handmade paper for sculptural works and artists' books.
Over several years in the 90s, Field collected tree branches, bound them to into 3D tent-like forms, sewed cheese cloth onto the forms, and poured in hand-beaten mulberry with formation aid. They were big – often 8′ tall or taller. Her former husband would do the pouring, and Field kept moving the forms around so the fiber was evenly distributed. After they dried, she peeled off the cheese cloth and installed them in the woods at the back of the farm. She built each form from only one species of tree, since each species has its own calligraphy. Then she'd install them in the woods at the back of the farm and photograph them as they returned to nature. They lasted several years, despite British Columbia rain. The weak areas were along the ribs. The paper just lasted and lasted. This piece is called Esau and Company.
Decades ago, UNICEF in cooperation with the Nepalese government, set up Bhaktapur Craft Printers (BCP) in the Kathmandu valley to address the over-cutting of daphne. UNICEF's goal is to improve the lives of children by way of making their parents' lives better. They hire largely women, pay decent wages, and their products reference tradtitonal Nepalese themes. They are a model for culturally appropriate development. This photo shows Nepalese women spreading out newly dyed sheets of traditionally-made daphne paper to dry on metal sheets. 1989
On Field's three extended trips trips to Nepal with her then-husband and daughter, by a stroke of luck, they hired Dhirendra Tamang as their trekking guide. Despite almost no formal education, he could guide in three languages. Once he understood what Field was looking for, he began sussing out things she might otherwise have missed. After each trek they would visit him, his wife and kids at their home. In this photo he is showing Field how to make 2-ply cordage from local fiber.
++++++
Dorothy Field's recommendations:
Travel to places where paper is being made or really anywhere which is unlike where you usually live.

Eskimo Realities by Edmund Carpenter 
The work of Imran Quereshi
++++++
Visit ABC Bookworld to discover more of Field's books.
++++++
Music featuring excerpts of Makin' Paper folk song by Peter Thomas. Listen to the full song and find out about other paper and book arts folk songs.
Gary A. Hanson did the sound editing for this episode. He practices and refines his skills in audio production while making his own podcast I'll Have a Beer and Talk, a show about tech news, culture, weird animal stories and of course, beer. Gary is also the Deckle in Pulp & Deckle, a Portland-based community hand papermaking studio.
++++++